Spring Bedding Plants and Perennials
What a wonderful way to get your garden started!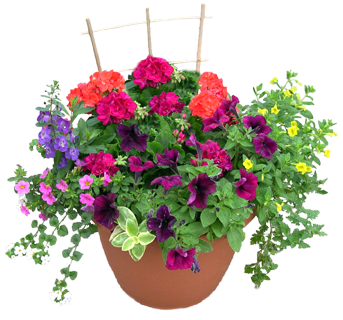 Awesome Combo Patio Tub
Gertens offers an amazing variety of spring combinations, hanging baskets, bedding plants and perennials to get any garden started. All of these selections are excellent for a Minnesota garden, and will decorate container plantings, beds and borders with blooms throughout the spring and summer. Gertens Spring Bedding Plants, and Perennials program is the most popular for schools, groups and organizations!
2017 Dates to remember
Final order is due five weeks prior to your scheduled delivery date. We do not post the fundraiser order form online. Call or email the fundraising office for a copy of the order form if needed.
April 28 - May 24: Delivery/Will Call dates. Deliveries will be scheduled as AM (8-12) or PM (1-5).
We will begin booking delivery dates for spring 2017 on July 11, 2016.
2017 Spring Bedding Plant & Perennial offerings -
Our list has changed! Please review your selections carefully!
Hanging Baskets and Tubs - Many beautiful options including 11" - 14" hanging baskets; and 11" and 16" tubs.
4.75" Potted Annuals: A nice selection of our best performers grown in individual pots.
Basket Pack Flats: Wave Petunias grown in an 18 count tray. 3 packs with 6 premium plants each. Sold in full flats.
4 Pack Flats: Sunpatiens grown in a 12 count tray. 3 basket packs with 4 extra large plants in each. Sold in full flats.
Vegetables - Tomatoes, Peppers, and a selection of Herbs.
Fruits - Strawberries in a 10" hanging basket.
Perennials: Check for new items in our perennial list.

Mixed Petunia Hanging Basket
How to participate
You must have a fundraiser account with Gertens. Call 651-239-1321 or email fundraisers@gertens.com to get started.
Notify Gertens of intent to participate by scheduling your delivery/will call date. Please call promptly as our calendar fills quickly. Call 651.239.1321 or email fundraisers@gertens.com for available delivery dates.
All deliveries will be scheduled as AM (8-12) or PM (1-5).
Support from Gertens