Easter - Spring Lily
Get an early start to the spring season.
It is time to catch a glimpse of the wonderful color that will soon be here. The Easter Lily is a traditional favorite and continues to be a great start to the spring season. In more recent years, hybrid lilies have become popular additions.
In addition to Lilies, Gertens is proud to offer an assortment of early spring plants such as: Hyacinths, Hydrangeas, Azaleas, Tulips, and much more!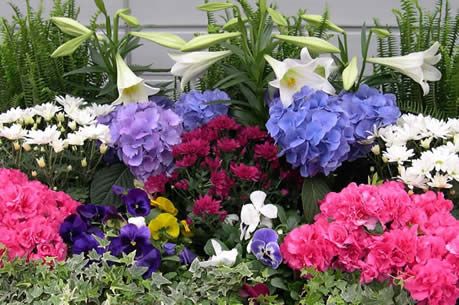 Easter -Spring Lily flowers
2017 Dates to remember
February 27th: To guarantee best selection, notify us of your participation on or before this date.
March 20th: Final order should be submitted.
April 3rd - April 12th: Delivery/Will Call dates. Deliveries will be scheduled as AM (8-12) or PM (1-5). Easter is April 16, 2017
2017 Spring Lily offerings
Easter Lilies-white: Available in 6"pots with 5 plus blooms and 8"pots with 12 plus blooms.
Hydrangeas, Azaleas, & Mums: An assortment of beautiful blooming plants grown in 6.5" pots.
Pansy Bowls: 12.5" low-profile bowl filled with blooming pansies in mixed colors. Set outside for early spring color.
8" Grow n' Show Bulb Gardens: A beautiful combination of Tulips, Hyacinths, Daffodils and Scillia. Watch these bulbs grow from start to finish.
Hyacinths: 6.5" pot, A beautiful combination of Pink, Blue, Purple and White Hyacinths.
Tulips: 6"pot with 6 bulbs in each. Available in Pink/Lavender and Yellow.

Welcome Spring with Flowers!
How to participate
You must have a fundraiser account with Gertens. Call 651-239-1321 to get started.
Notify Gertens of intent to participate by scheduling your delivery/will call date. Please call promptly as our calendar fills quickly.
All deliveries will be scheduled as AM (8-12) or PM (1-5).
Support from Gertens