Decorating with Fresh Cuts and Floral Pics for Winter
Start with an idea or vision. Choose a theme such as poinsettias, snowflakes, retro, or country living. You can also choose a color scheme that will match your home décor or your theme such as traditional Christmas: red and green, Winter Wonderland : Blues with whites and grays, or Northwoods: Deep red plaid with brown and dark green.
Ribbon and bows should always go on first. The bow is your anchor and your choice of ribbon is what sets the scene for your entire project.
Add pics to your fresh wreath. Pics can be a berry spray, a fake flower or poinsettia, or cones. Make sure the pics for your outdoor wreath can withstand freezing otherwise the paint etc. could crack and flake off. You can also add in hanging décor items like sugar cone chandeliers or swags.
Add fresh cuts. Make sure the fresh cuts can be used outdoors. Spruce tips, red and white pine boughs work well outdoors. Holly and boxwood do not handle freezing temperatures well, therefore they should only be used indoors. Pepperberry, sweet bay, and eucalyptus are just a few examples of cuts that can be used outdoors and will keep well into the Christmas season with the proper care.
Poke cuts into the branches of your wreath to add a new dimension of texture, color, and depth.
Use eucalyptus and sweet bay in a balsam garland to create a wonderful scent to accent your living room or foyer.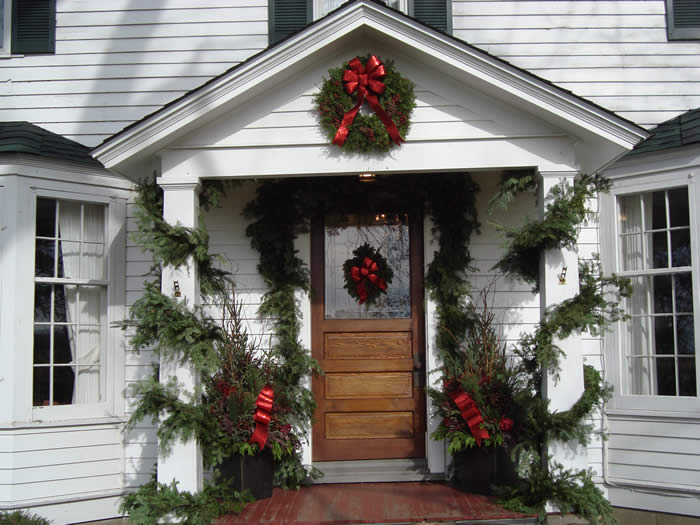 Keeping a central color, theme or particular type of decoration is key when putting it all together!
Types of Cuts to use for Decorating
Sweet Bay: Strong bay scent that is great for chicken soup or adding texture to anything. Dries very well.
Eucalyptus: Strong herbal scent in a bough that can dry well and add color and texture to anything indoors or out.
Pepperberry: Pink berries that dry and last for long periods of time. Cut leaves off if it will be used in a dry arrangement. Great to add color.
Rose hips: Great for pots and garden beds. Bright red berries dry to a red/brown and last through the season.
Toyanberry: White opaque berries that are great for adding a natural look to a centerpiece or indoor wreath.
Holly: Cannot freeze but dries nicely. Great for indoor wreaths, garland, or a centerpiece to bring Christmas indoors.
Willow: Curly or red willow can be used for outdoor pots or beds or wreaths. Can give height to pots and adds texture and direction.