Decorate Your Door for the Holidays
With minimal effort, you can follow our tips for decorating your door for the holidays. Mix and match simple materials available at Gertens, your local garden center in the Twin Cities, to create an attractive, tasteful decorations for your home's exterior.
Garland
Balsam garland is a fragrant and natural decoration that will last throughout the winter. It makes for a classic adornment draped over an awning, over railings, or under eaves.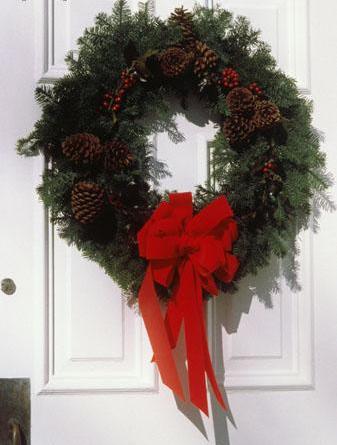 A traditional Christmas wreath is only the beginning of options for brightening up your front entry way.
Wreaths
Whether it's fresh cut or permanent, a wreath is sure to dress up your door. Gertens offers several varieties and sizes ranging from 12" diameter to 60" diameter. You can choose between a fragrant balsam or fraser, or any number of other permanent and dried wreaths that can be used year after year.
Spruce Tips
Spruce tips will add depth and complexity to your existing annual planters and pots. You can also add a touch of color using white pine boughs, red pine boughs, rose hips, pepperberry, eucalyptus, rice flower, and even pine cones. Simply remove your tired annuals and arrange the spruce tips and other additions in a pleasing manner.
Lighting Fixtures
fresh greens
to spruce up your lighted entrance. You can also add a variety of exterior lights including energy efficient
LED lights
.
Above all, be creative and accentuate your home's existing accents and style to make an impressive statement this holiday season!
Interested in learning other ways to spruce up your home this holiday season? Read more related articles