How to Choose and Care for the Perfect Christmas Tree
To some, Christmas just isn't Christmas without a real Christmas tree. The following are a few hints to help you select that perfect tree.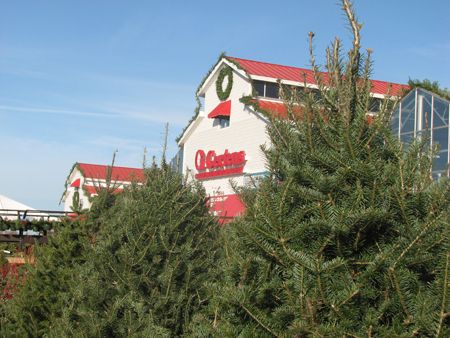 Ensure you get a fresh tree by checking if it is healthy. Look for green needles and few falling off when the tree is bumped gently.
Decide on where you will place the tree. Will it be seen from all sides or will some of it be up against a wall? Be sure to choose a spot away from heat sources, such as TVs, fireplaces, radiators and air ducts. Place the tree clear
Measure the height and width of the space you have available in the room where the tree will be placed. There is nothing worse than bringing a tree indoors only to find it's too tall. Take into account the height of your tree topper, to get a tree that will fit your ceiling height.
Remember to choose a tree that fits where it is to be displayed. For example if the tree is displayed in front of a large window, then all four sides should look as good as possible. If the tree is displayed against a wall, then a tree with three good sides would be okay. A tree with two good sides would work well in a corner. Make sure the handle or base of the tree is straight and 6-8 inches long so it will fit easily into your tree stand.
Choosing a fresh tree: A fresh tree will have a healthy green appearance with few browning needles. Needles should be flexible and not fall off if you run a branch through your hand. Raise the tree a few inches off the ground and drop it on the butt end. Very few green needles should drop off the tree. It is normal for a few inner brown needles to drop off.
Fraser Fir
The Fraser Fir may be the perfect holiday tree and is by far our most popular. Its beautiful 1" needles are a soft silvery-green and it also has a nice fragrance. Fraser is easier to decorate than some trees because of the spacing between branches. Also the firm branches hold heavier ornaments well. Fraser Firs grow to almost perfect shapes, and as long as the cut tree is kept properly watered, the Fraser Fir has excellent needle retention. Gertens has their Fraser Fir shipped directly from the Blue Ridge Mountains in NC where they grow in their native area to ensure the best Fraser Fir possible.
Balsam Fir
The Balsam Fir is a beautiful dark-green color with airy, flexible branches. Although it holds ornaments well, it may not be the best tree for heavier ornaments. It has an attractive form, holds its needles well, and gives off a beautiful fragrance for your home. Gertens has their Balsam Fir shipped in from a family farm nestled into the hilltops of Wisconsin.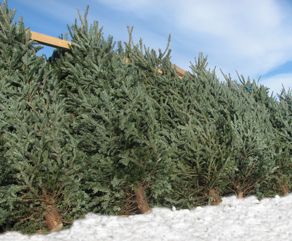 Gertens has a huge selection of trees for you to choose from on our main lot!
Eastern White Pine
Branches from the White Pine are often used in garlands, wreaths, and centerpieces due to their long, feathery, soft needles. Though it is a beautiful tree, branches can be a bit too flexible to support heavier decorations. Its lush fullness also makes it difficult to squeeze in ornaments. The White Pine needles are retained well when properly watered. Gertens has their White Pine shipped directly from a family farm nestled into the hilltops of Wisconsin.
When you are checking out, remember to pick up a tree removal bag. It can be used as a tree skirt and then pulled up around the tree to help keep the floors clean when the tree is being taken down.
Now that you and your family have chosen that perfect tree it's time to bring it home. Cover your tree with a tarp or plastic for the trip home to keep it from drying out.
Keeping your tree fresh:
If you are not putting the tree up right away, store it in an unheated garage or some other area out of the wind and cold (freezing) temperatures. Make a fresh one inch cut on the butt end and place the tree in a bucket of warm water.
When you decide to bring the tree indoors, make another fresh one inch cut and place the tree in a sturdy stand that holds at least one gallon of water, or a rule of thumb is one quart of water for every inch of diameter of the trunk.
Be sure to keep the water level above the base of the tree. If the base dries out, resin will form over the cut end and the tree will not be able to absorb water and will dry out quickly. Commercially prepared mixes; aspirin; sugar and other additives added to the water are not necessary. Research has shown that plain water will keep a tree fresh.
Check all Christmas tree lights for worn electrical cords. Use UL approved electrical decorations and cords. Unplug tree lights at night.
Miniature lights produce less heat and reduce the drying effect on the tree. LED lights are a great alternative to incandescent lights and are much more energy efficient.
There are a variety of products available to help you keep your tree looking great including automatic watering devices, stands, mats and more.
Take down the tree before it dries out. Many fresh cut trees if properly cared for will last at least five weeks before drying out. Use a Christmas tree removal bag to pull up around your tree so you won't leave a trail of needles as you take it out of your house.Recycle your tree after Christmas. Many communities will pick up trees and turn them into chips or mulch.
Visit us at Gertens to see our vast Christmas tree selection this holiday season. We'll help you find the perfect tree for your home, as well as any accessories you might need to have. Merry Christmas!