Frequently Asked Questions
Where is Gertens Commercial Sales located?
Gertens sits on more than 100 acres in Inver Grove Heights, MN. We have more than 40,000 sq. ft of retail space and just across from the store on Blaine Avenue, sits Gertens Commercial Sales. We have our own stocked yard and access to acres of plant material from the fields. Stop on in to get a brief tour from one of our great staff members.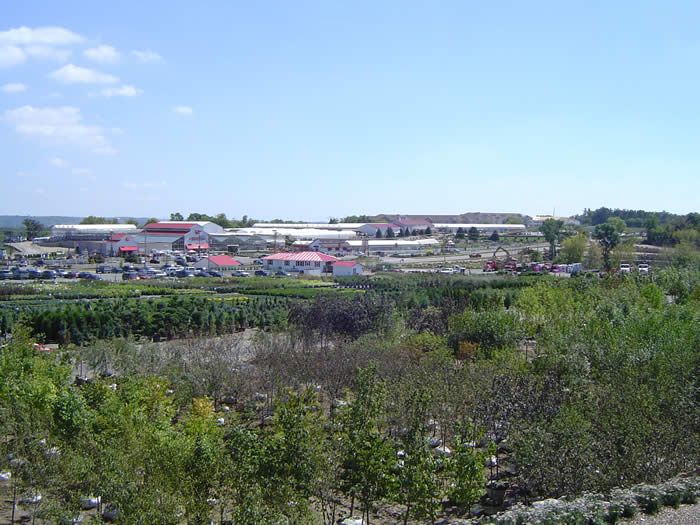 A view of Gertens Commercial Sales, the buliding in the middle, and the Gertens Retail Store and Greenhouses behind.
Where is the Landscape Supply Yard located?
Gertens Landscape Supply Yard is located on the west side of Blaine Ave. across the street from the retail store and north of Commercial Sales. Here you will find all of our bulk mulches, soils, landscape rock, palletized stone, boulders and helpful, knowledgeable staff.
Who can buy from Gertens Commercial Sales?
Landscape Contractors & Installers
Garden Centers
Landscape Architects & Designers
Lawn Care Companies
Cities and Municipalities
Tree Care Companies
Golf Courses
Florists
Other Companies may be approved by Manager
The MNLA (Minnesota Nursery and Landscape Association) has set up guidelines that we here at Gertens follow. You must be a legitimate contractor with a Nursery License (preferred), license and bonded with the State and proof of business (i.e. business cards and a website). We have a simple form to fill out, so that we can track your purchases. Contact us with any questions or for more details.
How much of a discount is wholesale off of retail?
The discounts can vary from product to product. But generally off of plant material you can expect a discount of about 30-33%. Hardscape material like mulch, pavers, boulders, etc., the discount typically is 15-20% off retail. Quantity discounts are given, and they may offer a better discount and other material may be discounted, check with sales staff to determine pricing.
Can I pick out my own plant material?
Yes! We welcome you to shop at both our Wholesale and Retail yards. Wholesale has a lot that is big enough and aisles wide enough for trucks to drive through and plants can be loaded directly into your vehicle. It is arranged by plant type, Perennials, Shrubs, Evergreens, etc., then alphabetically. When shopping on the Retail lot, you must use carts and wagons to load your plant material and check out at the Landscape Project Desk. If you want us to pull a plant order for you, contact us about 12 hours before you want to pick up, and we will get the order together. The order will be pulled to line, where you can pick it up and be off to your jobsite.
Does Gertens deliver?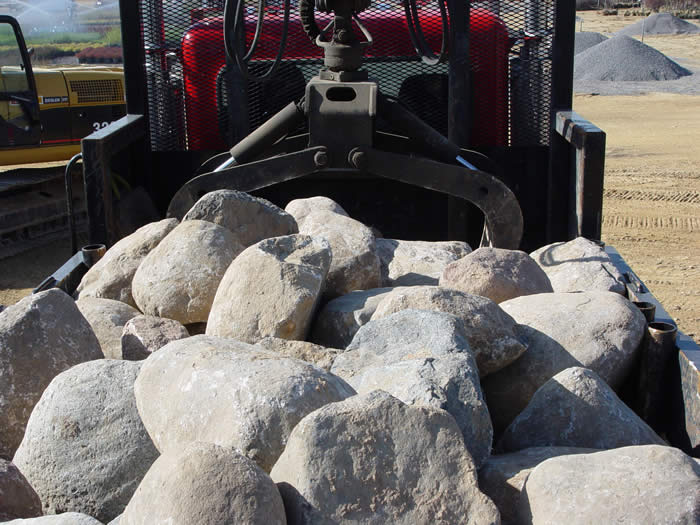 Gertens Clam truck with a load of boulders waiting to go out on a delivery.
We have every sort of truck that can deliver any sort of material. Large dump trucks can deliver mulch, soil, landscape rock and boulders. Dock trucks and our curtain side truck are great for delivering plant and palletized material. Boulders can also be placed using our clam truck, it has a reach of 15-20 feet. Our flatbed semi can deliver many pallets of retaining wall block, natural stone, pavers and sod. There is forklift attached to deliver to sites where there is no machine present. Contact Commercial Sales to set up any deliveries!
For any other questions, please contact Gertens Commercial Sales at 651-450-0277 or by e-mail at wholesale@gertens.com. For hardscape questions refer to the Landscape Supply Yard at 651-239-1369.