Gertens Customer Service
Gertens Commercial Sales is the little white house, with the red roof across from the retail store. Under that little red roof, we have the power to get you anything you need for any project.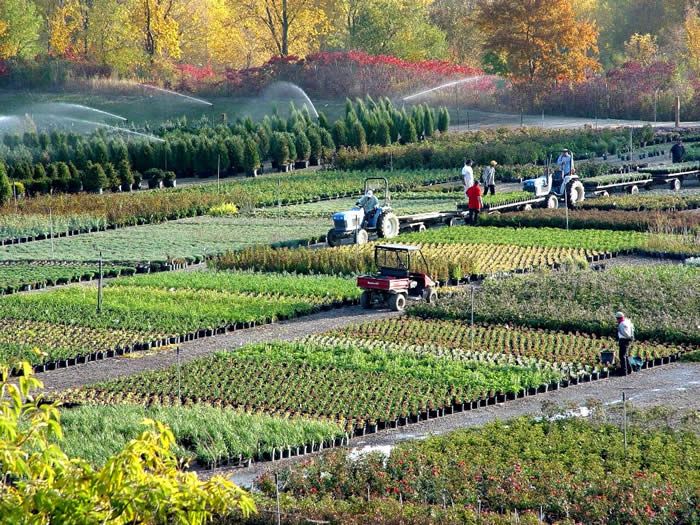 One of our many fields stocked with hardy nursery stock.
Gertens Grown Product
Gertens grows a huge variety of annuals, perennials, shrubs, evergreens and trees. New products are becoming available every year. Since we grow our product, we can pass the savings on to you! Our pricing is very competitive and quantity discounts are offered.
Our stocked yard is made to be shopped from. Plants are arranged alphabetically to be easily located and our aisles are wide enough to drive down. We encourage you to pull your own order and often reward you with discounts for doing so! Watch your inbox and mailbox for updates and specials.
Personalized Service
We get to know our customers. We recognize you and build relationships with you and your company. Count on our sales staff to help you with every step of your project. We can take orders by phone, fax or e-mail and process them quickly for pick up or delivery. One of the many trucks in our fleet can deliver to your jobsite or office. When you want deliveries, we get them to you. Our delivery drivers are courteous, safe and friendly, just like the staff you hire. Plant material pick ups are easy; with proper notice, we can have your order pulled and waiting for you. We have an outdoor kiosk, to make checking out easier and quicker.
Don't forget that you can shop on retail! When the Commercial Sales building is not open or you want to show your customers our many displays, utilize the retail shopping area. Check out is easy at the Landscape Project Desk; they will be able to look up your account and you will still get the wholesale price and discount.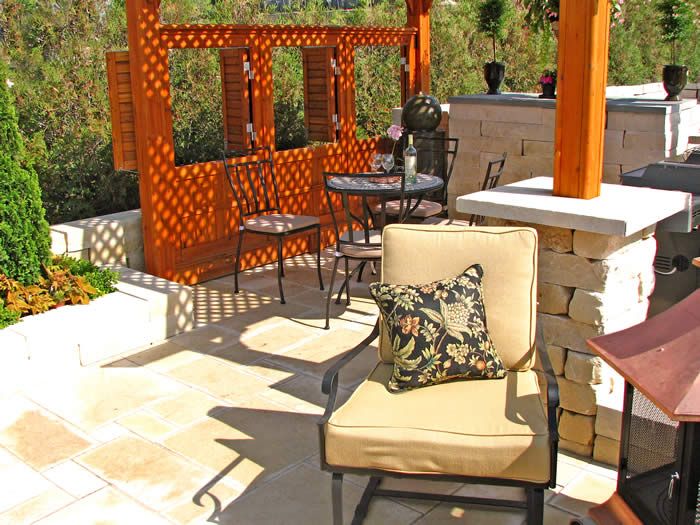 A beautiful pergola over an outdoor kitchen. Coordinating furniture invites you come in and sit down.
Displays
Gertens retail shopping center has plant and hardscape displays. Many different plant combinations are demonstrated and are changed throughout the season. Paver paths run throughout the shopping area, and are easily accessible to everyone. Over 40,000 SF of indoor shopping space is available and displayed are garden accessories and gift shop items.
Outdoor kitchens and living areas have been very popular for homeowners. We have recently devoted a portion of our display area to kitchen, bar and living area demonstrations. Many different paver patterns, styles and colors are used, making this a great place to show your customers different products. The products we have displayed can all be purchased from our Landscape Supply Yard.
Landscape Supply Yard
Our hardscape material is all located in one spot. We have large bins that hold our bulk products, such as mulch and landscape rock. Pallets of wall stone, paver materials and natural stone are also displayed. Samples of product can be used to show your customers, this will ensure they get just what they are looking for. The knowledgeable staff can assist you in determining the amount of product needed. They also are a valuable resource when it comes to installation questions. Most employees have a background in the landscape industry, and can help troubleshoot. When you need product to a jobsite, we have a semi-truck and dump trucks that can deliver.
Onsite Assistance & Knowledge
Not only do most Gerten employees have an education in horticulture or a related field, but they have experience in the landscape industry. These two paired together are a valuable resource for you and your company. We have the availability to have a staff member come to one of your jobsites to help with the design and placement of landscape lighting and pond installation. Lighting can be the final piece to the landscape. It is a great way to highlight the work you have done and add safety and security to your customer's home. Ponds are an attractive and unique feature that add interest and beauty to the landscape. We offer to help because we want to make sure you feel comfortable with the products and methods of installation.
Gertens has a committment to all our customers, retail and wholesale, feel free to contact us with any questions or requests. Phone:651-450-0277 E-mail: wholesale@gertens.com