Growing Rhubarb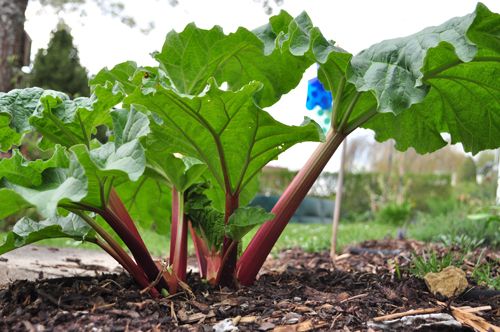 Easy to grow and a delicious component of some favorite Minnesota desserts, rhubarb is a must have in the garden. This resilient perennial is no muss no fuss. A favorite in the garden and a favorite in the kitchen. Rhubarb is so well known for its use in desserts that it is sometimes referred to as the pie-plant. Though pie is only one of the vast amounts of goodies that rhubarb is used for. Typically paired with strawberries you will be able to enjoy strawberry rhubarb jam, crisp, cake, and bars throughout the summer. You can even freeze some of your rhubarb harvest and have it all year long!
This winter-hardy perennial is technically a vegetable though many people mistakenly believe it is a fruit. Rhubarb requires temperatures below 40 degrees Farhenheit to break dormancy and stimulate spring growth. This makes it a great plant for the northern states. Gertens carries Chipmans Canada Red rhubarb, which is vigorous and easy to grow. This is a proven variety with luscious red stalks and a sweet flavor.
Rhubarb plants need to be spaced about two to three feet apart. Picking a space to plant your rhubarb is important, because it may be around longer than you would expect. Rhubarb is known for its longevity. Some living more than 20 years with proper care. They need a bright sunny location in order to flourish. It is important to plant your rhubarb in well draining soil. Avoid places where water pools and stands after heavy rains. Prepare the soil for planting by tilling the area to a depth and width of at least two feet. Add WonderBlend™ 100% Composted Manure or Creekside™ Premium Compost (available at our Inver Grove Heights location) to the soil before planting to increase performance. If your plant was bought at a garden center be sure to plant them at the same depth as the pot they are in. Plant bare roots with the crown two inches below the surface. Make sure to water well after planting.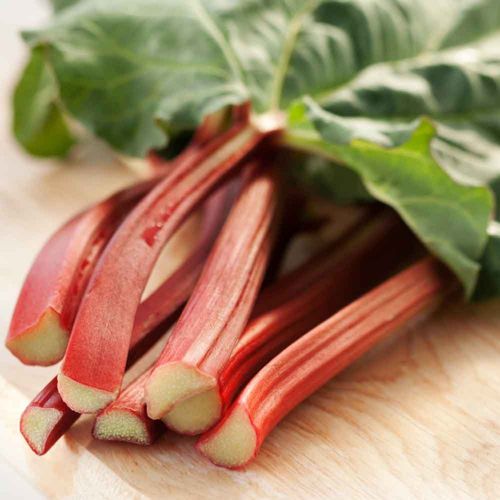 Rhubarb plants work hard growing large stalks and leaves only to have them harvested each year. As such they need to draw ample nutrients from the soil. Gertens perennials have fertilizer in the pot, so you do not need to worry about fertilizer for the first season. However, if you are planting roots from dividing a plant be sure to fertilize your new rhubarb with Gertens Flower & Vegetable Controlled Release Plant Food while planting. Just mix a scoop in with the soil. An annual application of fertilizer will help maintain your plant and increase production. The addition of WonderBlend™ 100% Composted Manure or Creekside™ Premium Compost (available at our Inver Grove Heights location) will also help to supplement the soil. Add Green Loon Mulch around the plant after new growth appears to retain moisture.
As tempting as it is to harvest your rhubarb as soon as it starts producing those beautiful red stalks it is necessary to wait until the second season to harvest your plant. New plants need all their foliage in order to build a strong root system. During the second year you can harvest sparingly for two to three weeks, but after the third year you will be able to harvest for eight to ten weeks. Although make sure to never harvest more than half the stalks from any one plant or the plant will not be able to store enough nutrients for next year's growth.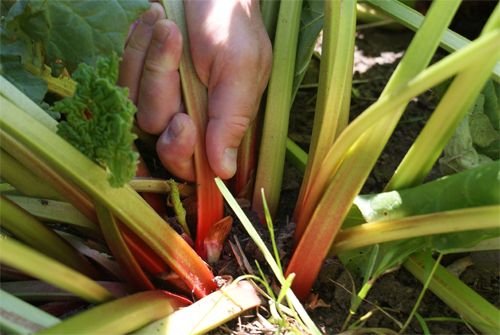 Harvest your rhubarb from spring to early summer. Pick your rhubarb by firmly gripping the stalk, pull and gently twist. Using a knife is not recommended as the wound created can serve as an entry point for disease and pests. Before consuming or cooking the rhubarb cut off the leaves. They are toxic and contains high levels of oxalic acid. After you discard the leaves you can get to baking your favorite treats!