Enhance Your Garden With Weeping Plants
You can significantly enhance your garden with weeping plants. Read on to learn which plants we recommend and how to use them.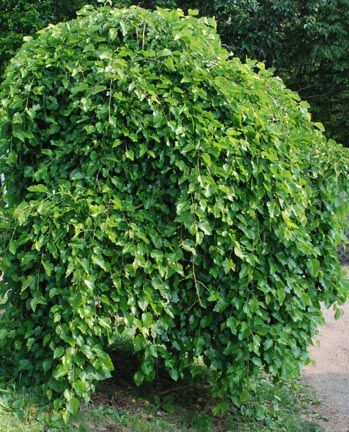 Weeping Mulberry plants have a beautiful glossy foliage
Weeping trees can highlight a particular area of your landscape.
Weeping plants add a graceful, soothing tone to your landscape.
Weeping forms can complement water features and other boulder landscapes.
It's always good to add something fun and different to your home landscape.
The following is a list of beautiful weeping plant specimens:
Molten Lava Crabapple -

Weeping Crabapple with red buds opening to single white flowers. 12-15' high.

Weeping Mulberry -

Graceful, small weeping tree with glossy green foliage. 10'h x 15's

Weeping Pussy Willow - Beautiful weeping form with traditional pussy willow flowers. 5-6' x 5-6'.
Pendula Bruns Spruce -

A type of serbian spruce with a weeping habit, beautiful foliage, and cones. 35'h x 15'w.

Weeping Larch -

Luminous lime green needles on a weeping form. Yellow fall color. 10-12'h.

Weeping Arctic Blue Willow - Excellent small specimen for patios or water features. 12-15' x 10-12'.
Weeping Nishiki Willow - Elegant and different looking features tri-colored leaves. Requires winter protection!
Weeping White Spruce - Narrow cone shaped weeper excellent specimen and a good plant for a narrow space. 20'h x 4'w.
Weeping Hemlock 'Gracilis' - A premier evergreen for shade gardens, rockeries, and water features.