Varieties of Climbing Vines and Their Uses
Curious about the different varieties of climbing vines and their uses? You're in luck. Here at Gertens, we offer quality information on vines, the unsung heroes of the landscape. They have many uses, including screens to cover fences or large brick areas on your home. They can be grown on arbors or trellises to either welcome visitors or to create a focal point in the garden. They can also be combined to create a beautiful display by using clematis and grape vine.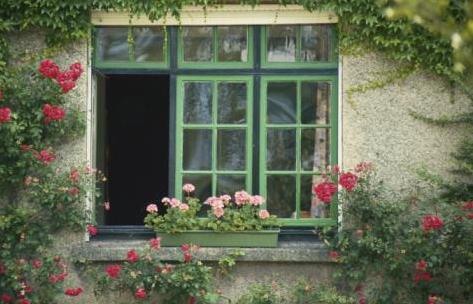 Climbing Vines have many uses, including covering fences and walls.

There are a few varieties that really perform well in most locations:
Clematis
Beautiful spring blooms in many shades and sizes. A helpful hint: Make sure they're in full sun, but plant other perennials at their base, or mulch heavily, to keep roots cool. Most varieties have specific pruning requirements, so make sure you ask us how to prune your particular variety.
Honeysuckle
Great for full sun areas, particularly good on chain link fences. This plant is vigorous with many varieties to choose from. Colors range from yellow to orange.
Boston Ivy
This is a dense, self-clinging vine with attractive green foliage and outstanding orange to red fall color. Boston Ivy is great in the shade or sun.
Engleman Ivy
This is the best vine for shade and will make a good ground cover as well. It has a burgundy fall color and blue fruits in summer – great for attracting birds!
If you're looking for something super quick, try some extremely hardy annual vines. Even though they probably won't make it through the winter, their speed, color, and fragrance makes the seasonal effort worthwhile. Here are some annual vine sure bets:
Mandevilla
This is a beautiful vine with pink tubular flowers and thick glossy leaves.
Jasmine
Very tiny, white fragrant flowers adorn this vigorous vine.
Hybrid Climbing Roses
For a beautiful cottage feel, try a beautiful climbing rose like William Baffin, or any other variety of climbing rose to fit the color needs that you want to fulfill.
To get the most out of your climbing vines, use Gertens All Purpose Plant Food or Gertens Bloom Enhancer.