How to Use Weed Killer on Your Lawn for Spring Weed Killing
Do you know how to use weed killer on your lawn for spring weed killing? Read on to find out!
Apply your
Gertens Crabgrass Preventer and Lawn Fertilizer
or
Fertilome Crabgrass Preventer Lawn Food
in early to mid May, depending on the weather. Apply your
Gertens Weed & Feed
or
Fertilome Weed Out Lawn Fertilizer
regularly from late May to June until all of your weeds emerge. If you're using a granular or liquid weed killer, plan your application around a predicted rainfall or
sprinkler application
, and severe hot days or mowing schedule.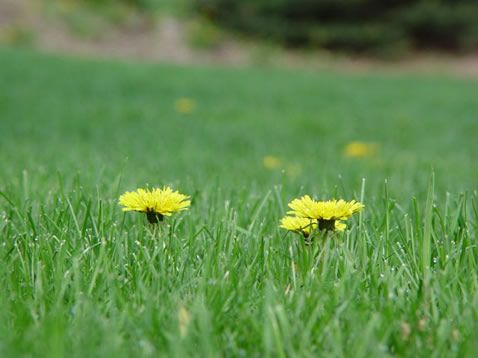 Applying weed killers and preventer is essential to a full, healthy lawn.
Weed killers are a contact killer, meaning they absorb the chemical through what comes in contact with the leaf surface and then translocates the solution throughout the plant through the plant's metabolism. Since weed killers are dependent on contact, it is very important to get good contact with the weed.

Granular weed killers should be applied when grass is damp and should not be watered for 48 hours after application. The dampness of the grass ensures the granular weed killer will "stick" to the leaf. Water applied too soon after application can wash off the weed killer from the surface of the weed before it can be absorbed.

To get good contact with the weed, don't mow the grass before you decide to apply weed killers. This eliminates leaf area, which in turn decreases your leaf area and ultimately decreases your success of the weed killer. When mowing your grass, plan to leave your grass uncut for two days after application and five days before.

During drought conditions or if you are having trouble getting adequate control, add spreader sticker which will increase the surface tension of the leaf to ensure proper absorption of the weed killer. During stress periods, plants tend to be more defensive and at times the addition of spreader sticker can be beneficial.

Weed killers will not prevent any future weed emergence. There is no persistence of the weed killer in the soil, unlike crabgrass preventer which will last several weeks.

Weed Killer is a five-step process:
Don't mow the lawn before or after weed killer application.
Plan around rainfall, or sprinkler application.
Water lawn lightly before application or apply in early morning to take advantage of dew.
Don't water after treatment for two days.
Stay off lawn for one day until regular lawn traffic should occur.
Crabgrass preventer
and weed killer can be used during the same time, but both should be applied with a fertilizer. Apply crabgrass preventer, water in, and then apply weed killer. Leave weed killer unwatered for 24-48 hours.
Early application of weed killer should be done to ensure control next year.