How to Seed a New Lawn
Let's get fall lawn seeding started. Following the process we describe below, you'll learn how to seed a new lawn with starter fertilizer and crabgrass preventer.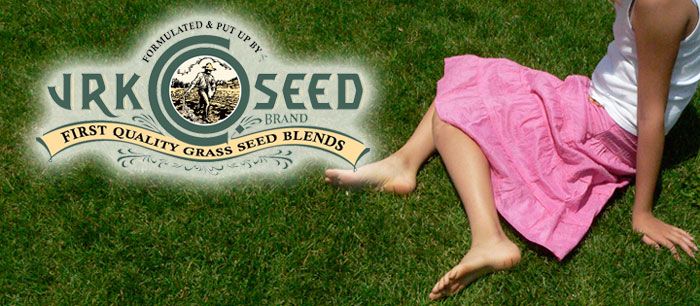 Finding the
right seed
for the right conditions is very important for a new lawn.

Supplies needed
Leaf Rake
Pelletized Paper Mulch
Timer
Select the Proper Seed
When shopping for your supplies, take time to pick out the proper seed for the conditions. Seed mixes are formulated for a wide variety of conditions and using the proper seed will greatly improve the success of your new lawn. There are sunny mixes, shade mixes and specialty mixes that are tailored to specific conditions.
Step 1: Site preparation
This is the most important step in successful germination of grass. Loosen soil and top dress the area with
Green Loon Seeding Soil
. This mix has soil amendments (compost and peat moss) blended in.
Rototill soil
to a minimum of six inches. Loosening the soil breaks up compaction, allowing the grass seedlings to root and the grass to take up nutrients and air, while giving better seed/soil contact. Sandy or heavy clay soils need additional amendments. Grass needs good drainage and good soil to grow and thrive. A good topsoil allows the plant to survive stress periods and retain moisture and nutrients longer. Level soil and rake smooth. Remove any clumps, rocks, and other debris. A leaf rake will leave grooves that allow for better seed/soil contact germination.
Step 2: Use Starter Fertilizer For Grass Seed
Starter fertilizer
will give emerging grass a faster, healthier start. Broadcast starter fertilizer over the soil at recommended rate and rake lightly into soil. To help weeds from competing with your new grass, use GreenView Crabgrass Preventer plus Seed Starter. Greenview Crabgrass Preventer Seed Starter. This is the only crabgrass preventer that can be used with grass seed. Regular types of crabgrass preventer will prevent germination of grass seed. A roller can be used to slightly firm the soil.
Step 3: Broadcast Seed Over Soil
Follow recommended seeding rate for your grass seed mixture.
See Gertens seed guide
to select the right mix for your lawn. Use a
hand spreader
for small areas and a
fertilizer spreader
for large areas. For a more uniform seeding, broadcast one-half of the seed in one direction, and the other half in a direction perpendicular to the first.
Step 4: Rake Seed Lightly Into Soil
Raking the seed lightly into the soil and
rolling with a roller
allows better seed and soil contact, ensuring proper germination.
Step 5: Broadcasting Of Pelletized Mulch To Maintain Moisture
This step is optional, however, we recommend mulching the area so the top several inches of soil do not dry out as fast. It will also help keep weeds down and help seeds germinate faster.
Step 6: Water Regularly
Water three to five times a day
for five to ten minutes following seed application until grass is established. It is important that the seed does not dry out.
Step 7: Stay Off The Grass!
Keep people and pets off planted areas until the grass gets established.