How to Control Dandelions in Your Lawn
Are you curious about how to control dandelions in your lawn? We have a bunch of great suggestions for dandelion control, but before we share our tips, let us provide a brief introduction to the plant. Dandelions thrive in our Minnesota cool springs and warm summers. Native to the rolling meadows of Europe, dandelions are found in the same family as sunflowers. Believe it or not, dandelion plants are entirely edible! The flowers are used to make wine, leaves can be boiled like spinach or used in fresh salads, and even the roots are edible. However, in our lawns, dandelions are just a downright nuisance. Check out the following dandelion control tips to keep your lawn looking great.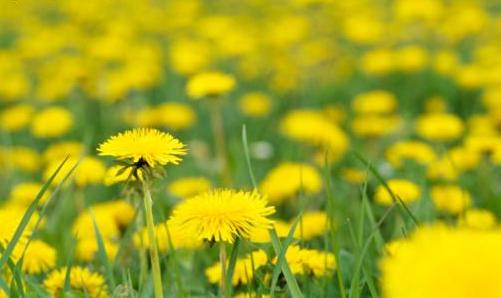 Dandelions are completely edible and enjoy compacted soil.
Why do they thrive?
Dandelions enjoy a compacted soil and because lawns are high traffic areas, our clay soils become easily compacted. Also, our climate provides ideal growing conditions for dandelions.
What dandelion control methods exist?
Regular up-keep of your lawn is your best protection. Turf grasses enjoy aerated soil while dandelions enjoy compacted soil, so make sure you aerate your soil in the fall to change the balance in favor of your grass. Keep your lawn healthy with regular fertilizing and re-seed any bare patches. If you only notice a few dandelions here and there, manually pull them out with a hand weeder.
Chemical dandelion control:
Weed and Feed: A common defense that has herbicide mixed with fertilizer. Apply in late May or early June, 4 to 6 weeks after you've applied a crabgrass preventer with fertilizer. Be sure to water your lawn prior to application of the fertilizer.
Hose-end or Pre-mixed Concentrate: Your best defense for overall coverage and ensures that herbicide reaches the plants. This solution usually kills dandelions within 2-4 days. Apply when the air temperature is 70 degrees Fahrenheit. One of our most recommended products for this is Weed Free Zone by Fertilome.
You can also spray in early fall, about mid-September, when dandelions are setting their food resources for the winter.