Winter Grilling Tips
With a cold winter what would taste better than grilled food?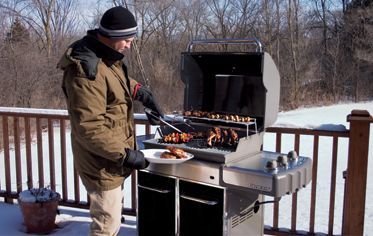 If you brave the elements, winter grilling is now one of the hottest trends in the Northland. Nothing heats up a frosty patio like a well seasoned steak, chicken, turkey or just a classic burger. At Gertens we think of a grill as the ultimate Deck-o-ration, for your patio.
With the choice of gas or charcoal, there's a grill to fit your budget at Gertens. What better way to get the best use from a grill setup then to use it all year? Budget-friendly meats, like burgers and brats, will warm you right up, and pricier cuts bring a gourmet touch to winter grilling. Experiment with different wood chips, rubs and sauces. With just a few tools and a little experimentation, you can create a culinary masterpiece in minutes without a sink full of dishes.
Winter Grilling Tips
Winter grilling just means having the right grill and a warm coat ready by the door, but keep a few things in mind:
Invest in a quality grill. A winter grill should be made of heavy duty material. If you opt for a gas grill, choose one with a cast-iron grate and the highest British thermal unit (or BTU, the heating value) rating that you can afford. You want a grill that will heat up fast and retain as much heat as possible throughout the cooking process.

Don't expect the grill to do all the work. If your grilling area has a coating of snow, clear it away before you start cooking. This will help you preheat the grill efficiently and may help avoid slips when all that melted snow freezes into ice later.

Dress for the job. Wear a warm jacket, but be careful of any dangling fabric that could catch fire. Leave the scarf indoors, and select a cover-up with an elastic band around the wrist or a button closure.

Don't be left in the dark. Winter grilling can mean cooking after sunset. Make sure you have adequate light so you can see what's cooking.
Is all winter grilling outdoors?
The short answer is no. The huge popularity of small electric grills, have successfully expanded the geography of grilling to indoors.
Regardless of what the calendar says, grilling is an American favorite, and whether you're cooking a whole turkey for Christmas or planning on skewering a few cocktail wieners to enjoy during the big game, a clean grate, even heat and some sizzle are all you need to make a memorable meal.
Check out additional grilling recipes from Gertens.com. Happy Grilling!