Thai Shrimps With Watermelon Salsa
Before getting started, make sure you have everything you need by checking out our grilling section for everything from spices and rubs to a brand new grill!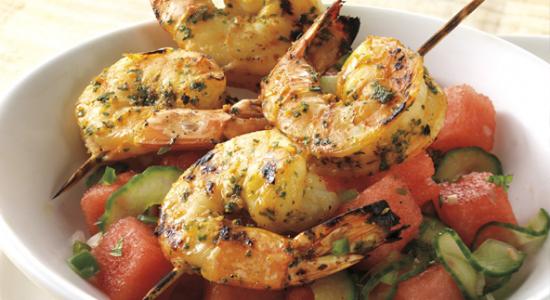 Salsa
2 tablespoons minced shallot
2 teaspoons rice vinegar
1 teaspoon granulated sugar
1–2 tablespoons minced jalapeño chile pepper
2 cups seedless watermelon, cut into 1/2-inch cubes
1 three-inch section English cucumber, halved lengthwise, seeded, and thinly sliced into half-moons
1 teaspoon minced fresh mint leaves
1/4 teaspoon kosher salt
Marinade
1/2 cup lightly packed fresh cilantro leaves and tender stems
1/4 cup lightly packed fresh mint leaves
3 medium garlic cloves
2 tablespoons coarsely chopped fresh ginger
2 tablespoons rice vinegar
2 tablespoons vegetable oil
2 teaspoons granulated sugar
1 teaspoon Thai red curry paste
1/4 teaspoon kosher salt
1-1/4 pounds extra-large shrimp (16/20 count), peeled and
deveined, tails left on
In a large bowl mix the shallot, vinegar, sugar, and jalapeño. Add the watermelon, cucumber, mint, and salt, and toss gently to combine. To fully incorporate the flavors, allow the salsa to stand at room temperature for 30 to 60 minutes.
In a food processor combine the marinade ingredients. Process to create a coarse puree, occasionally scraping down the sides of the bowl to incorporate the ingredients evenly.
Transfer the marinade to a medium bowl, add the shrimp, and toss to coat them evenly. Cover the bowl and refrigerate for 30 minutes, turning the shrimp after 15 minutes.
Prepare the grill for direct cooking over high heat (450° to 550°F).
Remove the shrimp from the bowl and discard the marinade. Thread the shrimp onto skewers. Brush the cooking grates clean. Grill the shrimp over direct high heat, with the lid closed as much as possible, until they are firm to the touch, lightly charred, and just turning opaque in the center, 3 to 5 minutes, turning once. Remove from the grill and serve warm or at room temperature with the salsa.