Strip Steaks with Mushroom, Bacon and Blue Cheese
Before getting started, make sure you have everything you need by checking out our grilling section for everything from spices and rubs to a brand new grill!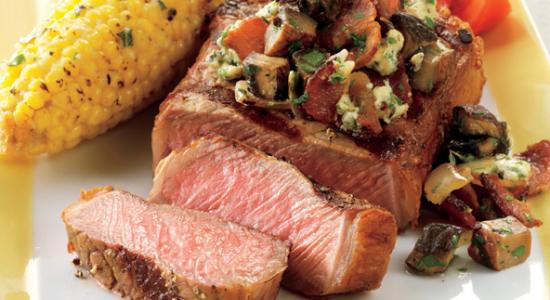 Delicious steak, with mushrooms, bacon and blue cheese! Serve warm with Relish
Marinade
1/2 cup dry sherry
2 tablespoons soy sauce
Extra-virgin olive oil
Ground black pepper
Relish
3 large portabello mushrooms, cleaned, stems and black gills removed
1 small yellow onion, cut crosswise into 1/4-inch slices
4 slices thick-cut smoked bacon, cooked and coarsely chopped
1 teaspoon finely chopped fresh thyme leaves
1/4 cup finely chopped fresh Italian parsley leaves
1/4 cup crumbled Gorgonzola cheese
Kosher salt
6 New York strip steaks, each about 12 ounces and 1 inch thick, trimmed of excess fat
In a large bowl whisk the sherry and soy sauce with 2 tablespoons oil and 1/4 teaspoon pepper. Add the mushrooms and onion slices and turn to coat. Marinate at room temperature for at least 30 minutes and up to 1 hour, turning occasionally.
Prepare the grill for direct cooking over medium heat (350° to 450°F).
Brush the cooking grates clean. Grill the mushroom caps, gill sides down first, over direct medium heat, with the lid closed as much as possible, until cooked through, 8 to 12 minutes, turning once and brushing occasionally with the marinade. While the mushrooms are cooking, grill the onion slices until softened and beginning to char, 6 to 8 minutes, turning once. Remove from the grill and set aside to cool.
Chop the mushrooms and onions and place in a medium bowl. Gently stir in the bacon, thyme, parsley, and cheese. Season with salt and pepper.
Lightly brush the steaks on both sides with oil and season evenly with salt and pepper. Allow the steaks to stand at room temperature for 15 to 30 minutes before grilling. Increase the temperature of the grill to high heat (450° to 550°F).
Grill the steaks over direct high heat, with the lid closed as much as possible, until cooked to your desired doneness, 6 to 8 minutes for medium rare, turning once (if flare-ups occur, move the steaks temporarily over indirect heat). Remove from the grill and let rest for 3 to 5 minutes. Serve warm with the relish.