Rib-Eye Steaks with Tomato Chimichurri Sauce
The key to grilling a great steak is to bring out the flavor of the meat, not mask it. This recipe gives your taste-buds the perfect balance between that classic rib-eye flavor and a subtle extra kick to step this up from a simple steak to a magnificent meal. Before getting started, make sure you have everything you need by checking out our grilling section for everything from spices and rubs to a brand new grill!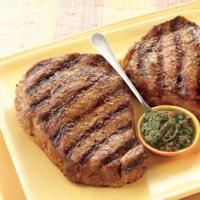 Sauce:
1 cup tightly packed fresh Italian parsley leaves and tender stems
1/2 cup extra-virgin olive oil
1/3 cup tightly packed fresh cilantro leaves
1/4 cup oil-packed sun-dried tomatoes, drained
3 garlic cloves
3/4 teaspoon crushed red pepper flakes
Kosher salt
Ground black pepper
Rub:
1 tablespoon ground cumin
1 tablespoon ground coriander
2 teaspoons kosher salt
1/4 teaspoon ground black pepper
4 rib-eye steaks, each about 12 ounces and 1 inch thick, trimmed of excess fat
Extra-virgin olive oil
In a bowl of a food processor combine the sauce ingredients. Pulse until you get a semi-smooth consistency. Season with salt and pepper. Transfer to a small bowl and set aside.
In a small bowl mix the rub ingredients. Lightly brush the steaks on both sides with oil and season evenly with the rub. Allow the steaks to stand at room temperature for 15 to 30 minutes before grilling.
Prepare the grill for direct cooking over high heat (450° to 550°F).
Brush the cooking grates clean. Grill steaks over direct high heat, with the lid closed as much as possible, until cooked to your desired doneness, 6 to 8 minutes for medium rare, turning once or twice (if flare-ups occur, move the steaks temporarily over indirect heat). Remove from the grill and let rest for 3 to 5 minutes.
Serve warm with the sauce
For those of you who need a little extra visual help, Weber has a great informational video to step you through this recipe.