How to Grill the Perfect Turkey - Tips for Grilling Turkey
Want to know how to grill the perfect turkey? Use our tips for grilling turkey from this sought-after recipe. You'll never go back to the oven! Before getting started, make sure you have everything you need by checking out our grilling section for everything from spices and rubs to a brand new grill! So let's get started, but don't forget your apron.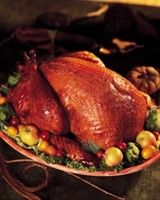 1 oven-ready turkey (select size to fit your grill)
1 tablespoon oil
Salt and pepper
Herbs, rub, or seasoning to taste
Rinse turkey and pat dry. Turn wings back to hold neck skin in place. Return legs to tucked position. Brush turkey with oil. Season to taste, inside and out.
Place turkey, breast side up, in a roast holder set inside a large heavy-gauge foil pan. Place in center of cooking grate. Cook 11 to 13 minutes per pound. Use a thermometer to check the internal temperature. It should read 180º F in the thigh and 170ºF in the breast. Remove turkey from grill and let stand 15 minutes before carving.
Makes 4oz skinless portion servings.
Note: To collect drippings for making gravy, pour a little water into foil pan. Replenish water as needed to keep drippings from burning. Remove pan from under turkey about 30 minutes before bird should be done and make gravy. (Continue cooking turkey in the center of the cooking grate).
Gertens has great selection of grills(Weber gas , Weber charcoal and Big Green Egg) and accessories including replacement parts including grates, drip pans and flavorizer bars to make grilling your turkey or just about anything a great success.