Herb-Rubbed Rotisserie Ham with Southern Comfort Mop
This Southern-inspired ham is loaded with fragrant fresh herbs and basted with a deliciously sweet concoction. For best results, pick a round ham so it cooks evenly on the rotisserie. Don't have a rotisserie? You can still grill this with great results. Before getting started, make sure you have everything you need by checking out our grilling section for everything from spices and rubs to a brand new grill!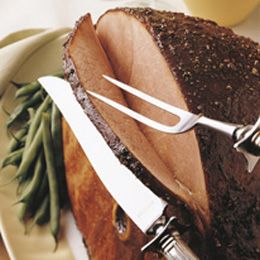 For the rub:
3 tablespoons mixed peppercorns
1 tablespoon mustard seeds
1 tablespoon fennel seeds
1 tablespoon ground cinnamon
1 tablespoon kosher salt
3 tablespoons sugar
4 tablespoons fresh chopped marjoram
2 tablespoons fresh chopped sage
1 sugar-cured smoked ham, butt end, 6 to 8 pounds
For the mop:
2 cups Southern Comfort
1/2 cup brown sugar
1/2 cup molasses
1/4 cup prepared mustard
To make the rub: Using a spice grinder, mill the peppercorns, mustard seeds, and fennel seeds. In a small bowl, combine the ground spices with the cinnamon, salt, sugar, marjoram, and sage.
Rub the mixture thoroughly into the ham, especially the fat, and refrigerate, covered, overnight.
To prepare the mop: Whisk together the mop ingredients. Set aside
Center the ham lengthwise on the spit and adjust on the rotisserie. Score the fat if desired. Let the ham rotate over Direct Low heat, for 2 to 2-1/2 hours or until internal temperature registers 140ºF (60ºC). If you do not have a rotisserie, grill the ham over Indirect Low heat for 2 to 2-1/2 hours. Baste the ham three times with the mop during the last 30 minutes of grilling time. Remove from rotisserie or grill and let stand 15 minutes before carving. Serve any remaining mop with the ham, if desired.
Makes 8 to 12 servings.