Grill-Roasted Apple and Pumpkin Bisque
Serves - 10 to 12
Prep time - 15 minutes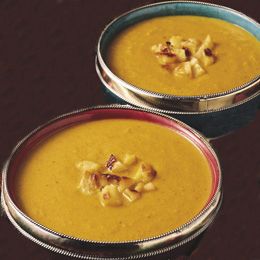 Grilling time - 10 to 15 minutes
Before getting started, make sure you have everything you need by checking out our grilling section for everything from spices and rubs to a brand new grill!
2 Granny Smith apples, halved and cored
1/2 cup (1 stick) unsalted butter
1 rib celery, diced
1 small onion, diced
1 small carrot, diced
1 quart apple cider
1 can (15 ounces) pumpkin
1 quart heavy whipping cream
1-1/2 teaspoons ground allspice
1 teaspoon ground nutmeg
Kosher salt
Ground black pepper
Prepare the grill for direct cooking over medium heat (350° to 450°F).

Brush the cooking grates clean. Grill the apple halves, cut sides down, over direct medium heat, with the lid closed as much as possible, until nicely browned and the skins start to pop off, 10 to 15 minutes, turning once. Remove from the grill, let cool, remove the skins, and chop into large pieces.

In a large saucepan over medium heat, warm the butter and sauté the celery, onion, and carrot until the onion is translucent, about 10 minutes. Add the apples and cider. Simmer until the vegetables are soft, 5 to 10 minutes. Stir in the pumpkin and cream; return to a simmer and then add the allspice and nutmeg.

Using a hand blender, puree until smooth (or strain the solids, place the solids in a blender, puree, and add back to the liquid). Heat through. Season with salt and pepper.