Don't Throw Away Your Pumpkin Seeds!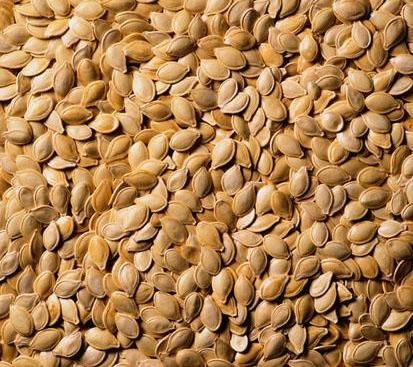 Pumpkins make wonderful decorations.... and tasty treats!
Pumpkin carvers, take heed! This fall, instead of discarding the seeds from your pumpkins, why not use them to enhance your diet? The delicious roasted seeds of the pumpkin are packed with protein, fiber, iron, copper, magnesium, manganese, and phosphorous, as well as amino acids. They also contain some calcium, potassium, zinc, selenium, folate, and niacin, along with important acids which may help to prevent hardening of the arteries. Who knew they had so many good attributes?
Interesting facts
Pumpkin seeds, and the oil they contain, have long been used as folk medicine. They have recently been the subject of a number of studies to identify their health-promoting potential. Preliminary studies have shown that pumpkin seeds may reduce hormonal damage to prostate cells, thus possibly reducing the risk of developing prostate cancer. Pumpkin seeds have been used to treat urinary tract infections, and in certain parts of Europe, they have been used to treat learning disorders. In China, pumpkin seeds are regarded as a remedy for depression.
Flavor and Uses
Roasted pumpkin seeds have a rich, almost peanuty flavor and can be eaten as a snack, or added to salads, soups, and casseroles. For the adventuresome, try them ground and use them to make sauces or marinades for your favorite dishes.
Roasting and Drying Process
Drying and roasting pumpkin seeds are two different processes.
To dry, carefully wash pumpkin seeds to remove the clinging fibrous pumpkin tissue. Pumpkin seeds can be dried in the sun, in a dehydrator at 115 – 120 degrees about an hour, or in a warm oven for 3 to 4 hours. Be sure to stir them frequently to avoid scorching.
You can stop here, or take it one step further: roasting your seeds. To roast, take your dried pumpkin seeds and toss them with oil and salt and roast in a preheated oven at 250 degrees for 10 to 15 minutes. Let cool and enjoy!
The next time you're carving pumpkins with the family, be sure and save the seeds, they're not only a healthy treat, but a tasty one as well!