Fall is the Best Season to Fertilize Trees
Fall is unquestionably the best season to fertilize trees, and at Gertens, we have a wide variety of
fertilizing products
for all of your needs.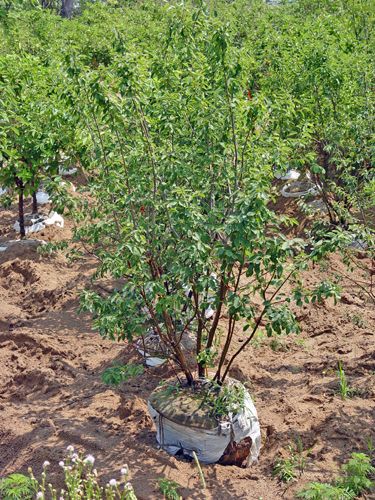 Fall is the perfect time to fertilize established trees, not newly planted trees. You should wait until next year to fertilize your newly planted trees.
Gertens All Purpose Plant Food
Specially formulated for flowers, vegetables, roses, lawns, trees, shrubs, evergreens, and houseplants,Gertens All Purpose Plant Food feeds all your plants! It provides them with properly balanced nutrition for fast structural growth and maximum development. It's water soluble for quick delivery of nutrients for plant growth and stronger roots. Simply mix with water in a sprinkling can and make all your plants happy!
20-20-20
Gertens Shrub, Tree & Perennial Controlled Release Fertilizer
Feed your plants all year long with just one application of Gertens Shrub, Tree & Perennial Controlled Release Fertilizer. It is designed to feed a wide range of plant types while promoting lush growth and beautiful blooms. When used as directed, this granular product will promote excellent growth, color and blooms for flowering plants, fruits, vegetables, houseplants,trees and shrubs for up to 5 months. This product contains macro and micronutrients essential for plant growth and is used widely by professional greenhouse and nursery growers.
15-5-15
Espoma Tree Tone
The
Espoma Tree Tone
organic plant food line is all natural plant food with bio-tone® microbes. Their variety of products is perfectally formulated for different situations.
Tree-Tone 6-3-2:
For shade, fruit and ornamental trees
Biologically enhances natural plant food to ensure superior plant growth
Safe and long-lasting
Feeds the entire tree: leaves, trunk and roots
Available in a 4 lb bag.
Winter Damage Prevention
Prevention is worth the time, money, and worries of future tree problems. Fertilizing your trees is one important step to make your tree strong from within, but animals feeding on bark and bark damage from high winters subject your tree to potential spring/summer complications.
Staking your new tree is important to make sure your tree gets a great, stable start and to ensure your tree stays straight. High winds, large snow falls, and ice can make a once straight tree fall.
Putting bark guards around the base of your tree discourages animals from feeding on the bark during harsh winters.
Wrapping your tree with tree wrap is important to help your tree during stressful weather and to ensure your tree stays healthy.