Decorate Your Garden and Stoop this Fall
Autumn is a beautiful time of year. Not only is it a true change of season with all the colors of nature, but it is also the Harvest Season. It's a great time for decorating - indoors and out!
At Gertens, we have some great ideas for outdoor decorating.
A true sign of the Harvest Season is all the wonderful types of squash and pumpkins available. These fleshy fruits, available in all sizes, not only make a wonderful addition to your door step, but you can also add them to your window boxes and planters. Their bright skins add instant seasonal color. You can also hollow them out and use as a unique planter. Then you can fill them with plants, smaller squash, or apples.
There is also a wide variety of cut branches and grasses you can use in decorating - you may even already have them on hand from your own garden. The following make excellent decorations on their own or in combination with other themes: Bittersweet, Rosehips, Copperbeech, Pepperberry, and Eucalyptus.
For an easy tranditional look, you can always use strawbales, cornstalks, and scarecrows for your front entryway.
And, don't forget! Keep some of your gourds and squash to decorate your Thanksgiving table.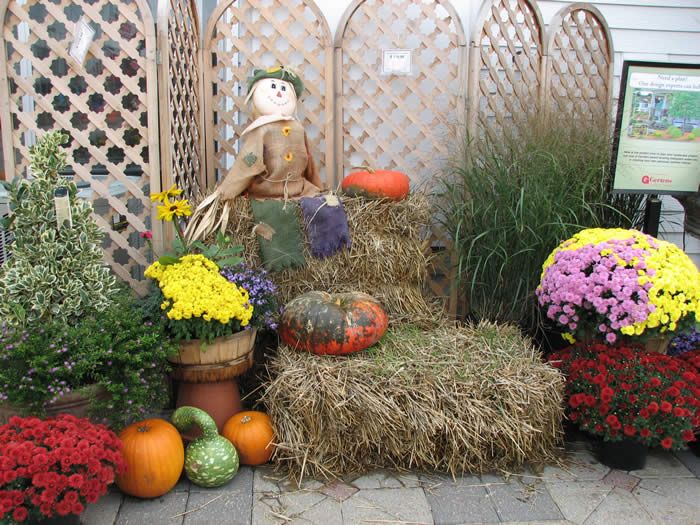 Harvest is the perfect time to show off those late bloomers, bright pumpkins and round gourds!