Department 56
The Department 56 Story
One Christmas evening, a group of friends set off to enjoy a dinner of celebration at a small country inn nestled in a quiet river town. As they rounded a bend in the road, they saw the small, old-fashioned village decorated for the holidays. The lights, like fairies, glowed and sparkled amid the freshly fallen snow. All evening, the conversation was full of Christmas memories and the visions the tiny town had evoked. Amidst the jovial banter and magical memories, the idea for a lighted Christmas village was born. That spark of an idea became a reality when, in 1976, Department 56 introduced a series of six hand-painted, ceramic buildings. The rest is history.
Now headquartered in Eden Prairie, Minnesota, Department 56 has become a leader in the giftware, collectibles and holiday decorating industry and is best known for our hand-crafted lighted villages, Snowbabies® figurines and extensive lines of holiday and home decorative products.
Department 56 now has grown to offer many beautiful collections to choose from. They continue to come up with great holiday decorations for every season. These are some of their premiere collections: The Original Snow Village, New England Village, Christmas in the City, Dickens' Village, Alpine Village, North Pole Village, Peanuts Village, Disney Village, and Snowbabies collection.
Department 56 Artist Bios:
In the past 21 years, Village artist Scott Enter has designed hundreds of Village lit buildings, accessories and general animated pieces. His first piece, the "Green House" (56.54020, 1991-1995), was planned as an accessory but Scott, who loves to tinker with technology, figured out how to make it light. Scott can be credited with upgrading numerous additions to The Original Snow Village, Snow Village Halloween and other Villages over the years. "Collectors are always asking us to add more sound and animation to their Villages, which prompts me to keep thinking creatively on how to make the Villages come alive."Scott found it difficult to choose just one favorite new design for 2011. "Since my family is quite involved in hockey, I worked on two different pieces that reflect the old fashioned warming houses found on ponds and at the edge of many skating rinks. For Winters Frost I added 'Hidden Ponds Warming House' and for The Original Snow Village I designed 'Round Lake Rink.' Each has different details and features that make them unique. I love the warmth of the fire with overhead lighting that allows the kids to continue practicing after dark on the 'Hidden Ponds Warming House' and the corrugated metal roof and front porch of the 'Round Lake Rink' give it a comfortable feeling, just the place kids can use to change into their skates and warm up with some hot cocoa after practice."

Scott Enter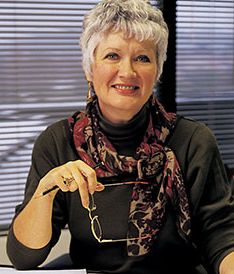 Cynthia Markle
Collectors have been enjoying the work of Cynthia Markle since 1992 when she joined the Creative team. She works closely with each artist to make sure that every accessory fits with the lighted piece that it is designed to accompany and all interior scenes add life to the lit building without detracting from the exterior details.
When asked what her greatest challenge was this year, Cynthia told us "doing the accessories for the new Williamsburg series. This Village, set in the revolutionary period, has subtle but remarkable differences that had to be approved before the designs could be completed. "Everything from the length of the dresses, style of hats, and aprons was different from the accessories I've designed for other Villages - like the New England Village. Even the children's clothing was different from designs I've done before." She shared that she could not design 'play clothes' for the children, they were usually dressed like small adults. "Some of the accessories, like the soldiers and carolers were pretty straightforward, but I infused some stories with accessories that included children."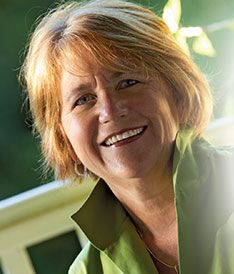 Kristi Jensen Pierro
For over 25 years Department 56® artist, Kristi Jensen Pierro has captured the beauty and splendor of winter. Her personal experiences and interpretations of childhood are artfully designed into each Snowbabies® piece and carefully named to ensure a sentiment of love, friendship or inspiration. The new SnowDream collection is inspired by a winter walk in the woods with icy colors of white, pink, grey, and cool taupe. Each piece is sprinkled with glitter creating a magical effect. "As an artist my job is to invent. After a year of sketching and conceptualizing I created this new collection. It's a nostalgic collection of figural giftware and trim full of warmth, whimsy, and magic. It combines the simple elegance of bisque porcelain with glitter, shiny mica and tinsel. I love the results and I hope that collectors will, too!