All About Growing Allium Bulbs in Your Garden
Growing Allium bulbs in your garden is a snap. Plus, they will provide great color after all of the early blooming spring bulbs have finished their blooming time. Growing Allium will bring color to your garden before your perennials are ready to start blooming. They have very unique blooms, and after they have lost their color their blooms still add great interest to your garden. They will work great in a dried flower arrangement. Plus, hummingbirds are attracted to this beautiful bloom.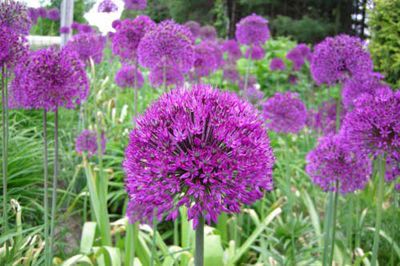 Alliums come in all different shapes and sizes.
They will fit into almost any garden setting and provide much needed color between spring and summer flowers.
Alliums are sometimes called "ornamental onions" and will do best in full sun with well drained soil but moist soil.
Animals will not bother with this bulb as it has a bad taste to them.
It is best to plant them in September or October and they should be planted about 8"-10" deep depending on the bulb type.
They grow best in zones 4-10 and will grow anywhere from 5-60" tall with a width of 3-12".
Alliums have strappy, undistinguished leaves with straight tubular flower stalks. The flowers bloom as clusters and are best know for their round pom-pom form but they can be cup-shaped or semi-circular too.
Give us a call at 651.450.1501 for the varieties we have in-stock or come on in to check out the selection that we carry in the fall for beautiful late spring blooms.