Blooms and Berries Lead to Birds and Butterflies
Everyone loves to see the flitting of a butterfly through the air or a hummingbird hovering over a flower during the summer months. The best way to bring birds and butterflies to your yard is to plant a bird & butterfly garden that provide food, water, shelter and places to nest. The great thing about attracting these interesting creatures in your yard is that you will also possess some beautiful blooms for all to enjoy.
Berries - A Bird favorite!
Early summer I enjoy an abundance of birds in my yard. My Serviceberries are ripe and I have dozens of Robins, Cedar Waxwing, Blue Jays, and a host of other birds visiting my shrubs to feast. It is almost like my shrubs are alive because they are in constant motion with birds flying in and out.
Some other great shrubs for birds are Viburnum, Dogwood, Winterberry, and fruits like Crabapple, and Raspberry. It is necessary to have shrubs that berry at different times of the year so that the birds will have plenty to eat.
This time of year I am also enjoying the Hummingbirds moving from my Milkweed, and Butterfly Weed in my prairie to the Salvia, Catmint, and Bee Balm in my gardens. They also love to visit my pots with Petunias, Annual Salvia and Lantana. If this doesn't fill their bellies then I have feeders scattered throughout my yard.
Later in the season the Finches and Chickadees always have a great time in my prairie. The Milkweed, Butterfly Weed, Bee Balm, Oxeye Daisy, and many more prairie plants have loads of seed for them to eat. These seeds provide food for the birds through much of the winter as well.
Fruit and Nuts are eaten in Winter
Providing water for drinking and bathing is very important for the birds; especially this year. I've noticed that the birds are drinking a lot more because the air is so dry and we are lacking those good rains to create puddles for them to enjoy. I fill my bird baths almost daily to keep up with their needs.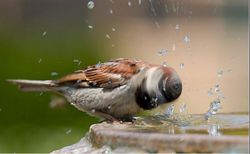 Keeping water close encourages the birds to stay even after eating.
Planting trees and evergreens around your yard will give the birds some places to safely hang out while providing plenty of shelter and nesting locations.
Butterflies are great fun to attract to your yard. Adult butterflies need nectar from the flowers that are growing in your garden. They also require host plants for their caterpillar stage like: Milkweed, Butterfly Weed, Honeysuckle, Viburnum, Birch and Poplar to name a few. This is an especially great year for Butterfly Weed. My prairie is full of it and I have seen an abundance of Monarch butterflies.
Butterflies need rocks to land on to sun themselves; this keeps their body temperatures up so they can remain active. Flat topped rocks are a great addition because they hold water, which allow these little creatures to catch a drink. Another great way of providing a drink is to have shallow mud holes that supply a small amount of water. Little kids will thank you when they get to watch the butterflies and play in the mud puddles.