Reliable Ornamental Grasses for Minnesota
Looking for a list of reliable ornamental grasses for Minnesota? You're in the right place. Gertens offers not only a list, but also tried and true care instructions for keeping your ornamental grasses looking great!

Ornamental grasses remain one of the most dynamic perennial plant families in horticulture. Generally speaking, their niche in the garden is that of hot, dry and sunny; a spot you have likely had some difficulty with over the years. Their cultural adaptability, however, extends their use to any location receiving at least six hours of direct sunlight. They can fill up areas as large as 6-8 feet (giant feather reed grass) or as small as 10 inches (fescue). Grasses also provide a unique color palate and texture, adding blues, greens and variegations in the summer and purples and oranges in the fall. Aesthetically, a grass is at its most beautiful when gracefully undulating in a summer breeze or adding much needed winter interest as it pokes out of the snow.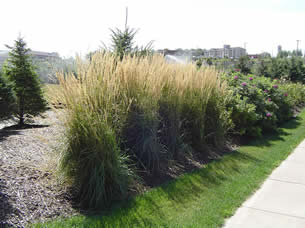 'Karl Foerster' is an excellent example of a vertical, full ornamental grass.
Beneficial Characteristics
Attractive seed heads in spring, summer and fall
Good fall color
Movement that is pleasing to the eye and ear
Varied colors and textures
Wildlife habitat
Vigorous growth and hardiness
Pest and disease resistant
Popular Varieties
Here are some very reliable grasses for Minnesota:
Miscanthus sinensis 'Purpurescens' (Flame Grass)
: This is 4-5 feet tall by 3-4 feet wide, clump forming with beautiful orange fall color. Used as specimens or mass plantings.
Miscanthus sinensis 'Silberfeder' (Silver Feather Grass)
: This is 6-8 feet tall and wide, clump forming with a very showy, silvery plume. Used as mass planting, for screens or as a specimen.
Calamagrostis acutifolia 'Karl Foerster' (Feather Reed Grass)
: This is 4-5 feet tall by 18-24 inches wide, narrow upright clump, wheat-like seed head, tolerates moisture and heavy soils.
Molina caerulea 'Variegata' (Variegated Moore Grass)
: This is 12-18 inches tall and forms thick tufts of variegated foliage. Tolerates heavy, moist soil. Beautiful yellow fall color.
Panicum virgatum 'Prairie Fire' (Switch Grass)
: This gets 5 feet tall. Bluer then other Panicum varieties. Breaks dormancy earlier. Commonly used as an accent plant.
Panicum virgatum 'Heavy Metal' (Switch Grass)
: This gets 3 feet tall by 30 inches wide. A stiffly erect, metallic, blue-gray color turning yellow in fall. Loose, weeping, purple-green plumes. Great accent plant.
Panicum virgatum 'North Wind' (Switch Grass)
: This gets 6 feet tall. Very tough and vigorous to Zone 3. Steel-blue, upright, thick, wide foliage. Screen or speciment.
Sporobolis heterolepis 'Prairie Drop Seed'
: This gets 2-3 feet tall. Forms arching mound of hair-like foliage. Great fall color.
Festuca glauca 'Boulder Blue' (Fescue)
: This gets 10 inches tall by 12 inches wide. Forms a dense, stiff mound of blue-green. Great as a border plant. Can be used in containers as well.
Hakonechloa macra 'Aureola' (Japanese Golden Forest Grass)
: This grass requires shade. A 24 inch, variegated, gold and green, foliage that brightens up any shade garden.
Helpful Hints
Grasses can be planted anytime during the growing season, May through September. They provide varied textures, interesting foliage, attractive seed heads and nice fall color.
Do not cut back the grasses in the fall, as they provide wonderful winter interest. Then in spring when you are performing your garden clean up chores, cut them back to a few inches from the ground. Like all perennials, they will completely regenerate.
It will take about 3 years for each variety to reach their full, mature width. Once established, they require very little maintenance. If you notice the centers dying back or not filling in with new growth, this indicates that they need to be split.