Gardening Guides for Minnesota and Wisconsin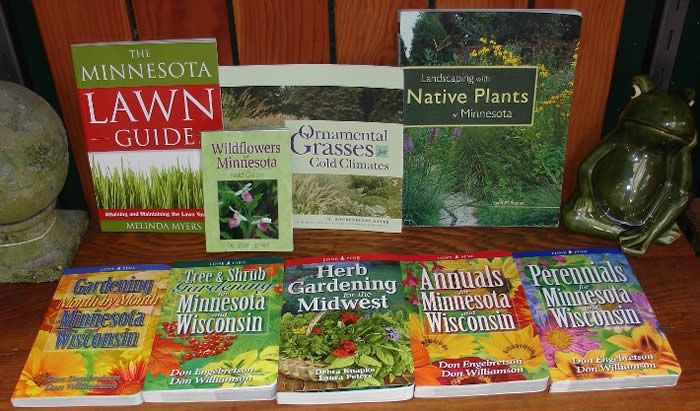 Finding the right book with information relevant to your location and plants is key!
Need a gardening guide for Minnesota and Wisconsin? Whether you are advanced or brand new to gardening, one handy tool for any gardener is a reference guide. The only problem with reference guides is finding the right ones that have quality information that compliments your location. Here at Gertens, we carry several top quality reference guides that not only have valuable information, but also are specific to Minnesota and Wisconsin gardening. Here are five reference guides that every gardener should have:

Landscaping With Native Plants of Minnesota by Lynn M. Steiner
This book guides gardeners through the benefits & basics of native plants while also demonstrating various ways you can landscape with them. Lots of wonderful photographs complement this guide to display various mature native plant landscapes while also showing individual native plants in all their glory. Information included in this guide touches on how to care & maintain your native landscapes, dives into the details of a number of specific native plants from grasses to flowers to trees/shrubs to vines, and how having a native landscape can be sustainable & environmentally friendly.

Ornamental Grasses for Cold Climates by M. Hockenberry Meyer
Ornamental grasses are a gorgeous accent to any landscape, but finding the right grasses that complement your landscape and climate are hard to come by. University of Minnesota professor Mary Meyer, who has specialized in cold climate grasses, created this guide. There is a comprehensive introduction to ornamental grasses, detailed photographs of each grass, and how to use ornamental grasses for different landscape needs. A must have for gardeners!

The Lone Pine Minnesota & Wisconsin Gardening series by Don Engebretson & Don Williamson
Each guide in this series covers specific gardening from annuals, perennials, trees & shrubs, to gardening month by month. With each book tailored to specific kinds of gardening, these guides are able to give vast amounts of helpful information. Each book has a visual index for easy reference, beautiful photographs, an introduction with tips on care, maintenance, & propagation, and plant specific info. What sets this guide from others is the how this guide helps with choosing the best cultivars of each plant, what the plants needs are, and any pests or problems to anticipate. Wonderful for beginning gardeners!

The Minnesota Lawn Guide: Attaining and Maintaining the Lawn You Want by Melinda Myers
For those interested in having a beautiful green lawn, this is the guide for you. Melinda Myers' guide goes in depth into lawn care & maintenance specific to Minnesota lawns. The Minnesota Lawn Guide has simple, easy to follow information that takes the guesswork out of a stunning lawn. Included is a helpful guide to assist in navigating possible lawn pests & problems, and also recommendations for proper planting, fertilizing and watering techniques.

Wildflowers of Minnesota by Stan Tekiela
Ever have a mystery flower appear in your garden? You may have wildflowers! A great way to identify these unique native flowers is with this guide by Stan Tekiela. The guides are categorized by color for easy reference and an introduction that helps you with further identification. Each wildflower page has further information on dimensions, bloom time, habitat, and helpful tips. Whether you have mystery flowers appearing in your garden or out in nature, this guide is an essential.