Tips for Dividing Iris and Daylilies
Need tips for dividing your iris and daylilies? You're in the right place. Mid-August through mid-September is the perfect time to divide iris and daylilies in Minnesota. The temperatures are generally cool and dry and the plants will have plenty of time to root in before the winter arrives.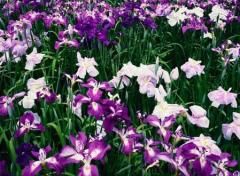 Iris and Daylilies love sunny, well drained soil. Keep that in mind when transplanting!

Tools needed for dividing:
large kitchen knife
hedge trimmers
bulb dust
root stimulator
small digging shovel
10/90 solution of household bleach and water
Dividing in late summer will reduce the incidence of bacterial soft rot. Dividing these groups of plants will increase the amount of blooms in the spring and also create a healthier plant. Plants eligible for division must be at least three growing seasons old.
When transplanting Iris you will need to first cut back the foliage to about one third of their height. Lift the entire clump with a small, long handled digging shovel. Use a sharp kitchen knife to separate the Rhizomes. Dip the knife in 10% bleach solution after each cut. The new transplants should have a firm rhizome with roots and a fan of leaves. Remove any old or soft rhizomes, planting only the fresh younger rhizomes.
Iris and daylilies love a sunny, well drained soil. Place transplants in a slightly shallow hole about four inches deep. Cover the roots so the rhizome crown is slightly exposed. Do not plant too deep, as rot may occur. Water in well with root stimulator.
A common problem with Iris is iris borer. Inspect all rhizomes for small brownish moths. Also inspect for soft rhizomes that may contain the small caterpillars that first bore into the leaves. If you discover either of the above you can spray with Cygon or discard any affected rhizomes.
Dividing can be enjoyable and rewarding. Good luck!