A little something for our heroic soldiers
We received the following in the mail-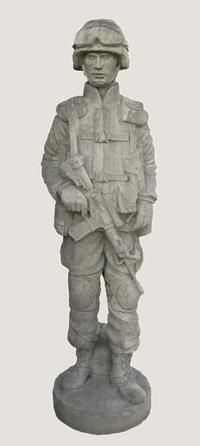 An indescript infantry soldier

My name is Barb Selge.
My husband Paul and I were in your store on May 1st. It was our annual trip for tomato plants, flowers and always one little extra something. This year we found ourselves over by the statues. My husband spotted it first -- a 4 ft statue of an infantry soldier. We wanted to take it home -- but the price stopped us.
Once we were back home -- I called our daughter and son who live close by and asked if they would go back to Gertens with me and see if this statue was as "cool" as I thought -- they agreed that it was -- both agreed to put money towards it for Fathers Day.
Unbeknownst to me -- while I was in line outside checking out -- my daughter had found a manager and was sharing our story.
Our 25 year old son SSG Todd W. Selge died in Baq Iraq September 3, 2009 -- 8 months ago. That's why we were drawn to the infantry soldier statue.
Your manager said you don't give military discounts but a fallen soldier was something completely different.
Thank you so much for the generous discount. I can't tell you how much it means to our family.
Thank you for honoring our son.
I've enclosed the article Todd wrote for the Army Times in 2007 during his first deployment to Ba Iraq. He was wounded and given the purple heart. I hope this article gives you a little insight into what a wonderful American Hero Todd is.
Gold Star Parents,

Barb and Paul Selge