Gertens Receives Freedom Award Nomination
The Secretary of Defense Employer Support Freedom Award was instituted in 1996 under the auspices of the National Committee for Employer Support of the Guard and Reserve (ESGR). ESGR is a Department of Defense agency established in 1972 whose mission is to gain and maintain employer support for Guard and Reserve Service by recognizing outstanding support, increasing awareness of the law and resolving conflicts through mediation.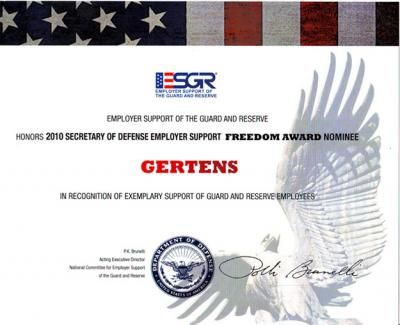 Gertens Freedom Award Nomination
Secretary of Defense William Perry authorized the first award in 1996 and presented it to Schneider National, McDonnell Douglas, United Parcel Service Central Florida District, Tektronix, Inc. and National Life of Vermont. In the years since, over 100 employers have received this prestigious award. Today, 15 awards are presented each year to employers in three categories, big business, small business and the public sector.
The nomination process is open to all Guard and Reserve personnel and their families and applications are submitted online to ESGR. A national selection board comprised of senior Defense officials and business leaders selects the award recipients. (information courtesy of freedomaward.mil)