Creating Ice Lanterns for the Holidays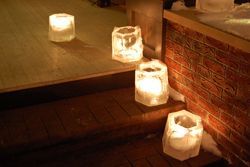 Oh baby it's cold outside! The cold winter months used to make it difficult to keep the outside of your house beautiful, but not anymore! Create beautiful one-of-a-kind
frozen sculptures with Arctic Ice lanterns or Globe Ice Lanterns.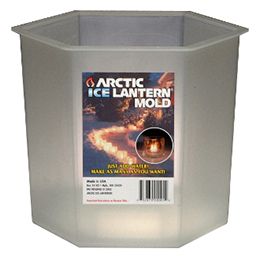 What exactly are Ice Lanterns? In the simplest of definitions they are a mold that is filled with water and frozen. Arctic Ice Lanterns use a plastic mold and the Ice Globe Lanterns are created by filling a special bladder and setting on a freezing base. The trick to making Ice Lanterns comes during the freezing process. Pouring out the still liquid water after the outside has frozen creates a cavity perfect for a candle. Use a luminary base to turn the ice lantern into a stunning winter showpiece.
Ice lanterns come with a very simple set of instructions to follow; however there is an infinite number of unique styles you can create by adding different food colorings
and accents. Freeze Holly Berries and fresh greens in a lantern for a festive holiday look, or use food coloring to create themed lanterns for your favorite sports team.
The possibilities are endless! Even if you consider yourself artistically challenged, you can create beautiful ice sculptures.
Nearly any object can be frozen in an ice lantern, so get creative!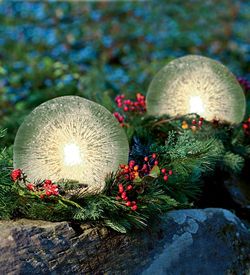 The juxtaposition of fire and ice radiating in the cool winter nights is sure to impress. These wonderfully unique lanterns can be made en mass to line a walkway or as an indoor centerpiece for your winter get together. They are also easy to customize with just a few evergreen twigs, bright berries or any decoration the imagination can come up with.