Outdoor Landscape Lighting
Low voltage landscape lighting can be the final touch needed to complete a landscape installation. Lighting is easy to install and available in many different sizes, colors and styles. The light given off can provide safety to walkways, illuminate water features, highlight textures on your house or emphasize specialty plants in the landscape. Different fixtures are used in different applications; path lights, directional lights, and wall lights all have specific functions that they can best be used for.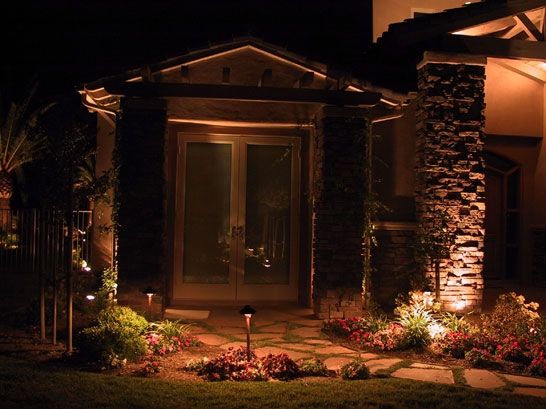 Front Entry, with pathlights
Gertens carries lighting from two different manufacturers: CAST and Kichler. This gives a great variety to choose from.
CAST
CAST has an old world look, and the fixtures are made from solid bronze. The classic look will always be in style and durability outlasts any other fixture. A lifetime warranty is offered on the fixtures to assure you of the sturdiness and craftsmanship.
Kichler
Kichler's catalog features pages and pages of distinctive lights and accessories. Let your homeowner look through the catalog to choose fixtures that coordinate with their landscape or current trends. Reasonable fixture pricing lends itself to affordability.
Transformers
Installation begins with the transformer. The number of lights you are going to install will determine the size of the transformer needed. It is best to have a bigger transformer in case you want to add more lights at a later date. Only 80% of the transformer should be used at any time and minimum of 20% has to be used. Each light uses a certain amount of watts, multiply the wattage by the number of fixtures to get the total wattage. This will give you an idea of the size of transformer you need. Multiple transformers can be used on the same site if you have a large number of lights or if you are working in the front and back yards of the home. The transformers can be attached together with a sequencer. There are a couple different methods for installing the light fixtures, CAST and Unique Lighting use a hub method; Kichler uses a daisy-chain or a loop. Both are suitable, and easy to work with. When working with wire, a rule of thumb is to use 10 gauge if the run is over 100' long, and if the run is less than 100', 12 gauge wire can be used.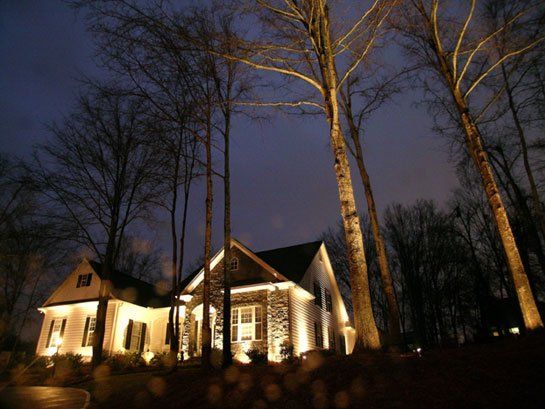 Uplights provide additional security and add interest.
Uses
Landscape lighting can be used in many different ways. Path lights are great to use along a walkway or driveway. They lead you to an entrance and shed light on any hazards that may be in the way. Path lights can also be used to illuminate the border of a patio. The fixture itself diffuses the light and casts a soft glow to the surrounding ground and surfaces. Directional lights are used to highlight specialty trees, evergreens or textures on the homes façade. Uplights are great to use on trees. Specialty evergreens that have a unique form or shape have a distinctive look when they are lit up. The light really highlights the shape and casts shadows to create a dramatic look. By using an uplight on a multi-stemmed tree, it seems to extend the height and lend a striking appearance to the trunk. Uplights can also be used on the house to draw attention to certain areas. Use lights around columns that are at the entrance of the home to define the entry way. Textures that are produced by stone are really brought out with lights and shadows are created emphasizing the surfaces' texture. Down lights are used to create the illusion of moonlight. They often are placed high up in a tree, around 20-25 feet, to have the light cast downward. Wall lights are integrated right into the retaining walls. Most wall lights go right under the wall cap and cast light onto the wall and the ground surface. Wall lights can also be used on stairs and columns. With the minimal appearance of the lights, they can fit into the design of any landscape project.
Gertens is here to help
There are so many other uses and applications for landscape lighting, don't limit your imagination and creativity! Design of light placement comes with experience, and Gertens staff is more than happy to help assist with onsite consultations. Contact our sales office at 651-450-0277 for more information and any questions.