Custom Grown Annuals
Our Greenhouse Production Department grows a variety of bedding plants; what you may not know is that they can custom grow varieties and sizes just for you and your company! Let the staff in the Production Department know what plants and size containers or hanging baskets you need, then let them determine the availability. The earlier you get your request in, the more selection you will have.
What We Grow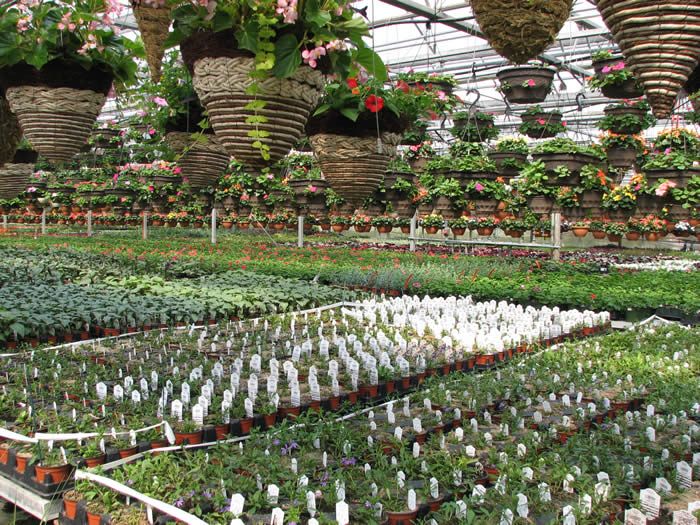 Bedding Plants and annuals growing in one of our greenhouses.
Different size containers work for different applications. In the 2010 season, we switched the size of our annual packs; we have started growing in a 606 pack. That it is a pack with six cells, but the cells are larger, which lends to a bigger, more established plant. We also sell single plant containers, ranging in size from 3" to 4 ¾". Our Landscaper Trays are a product that installers have really liked. They are a single molded tray, with no individual containers. So there will be less tags and containers to dispose of and less effort to get the plant out of the cell. Hanging baskets can also be used for large container plantings; the plants start out bigger and are more established. It is easier and cost effective for you and your company to plant a couple larger containers than many smaller ones. Custom basket combinations can also be designed and ordered. Pick out your plant selections and the Production Department will determine the availability.
Deadlines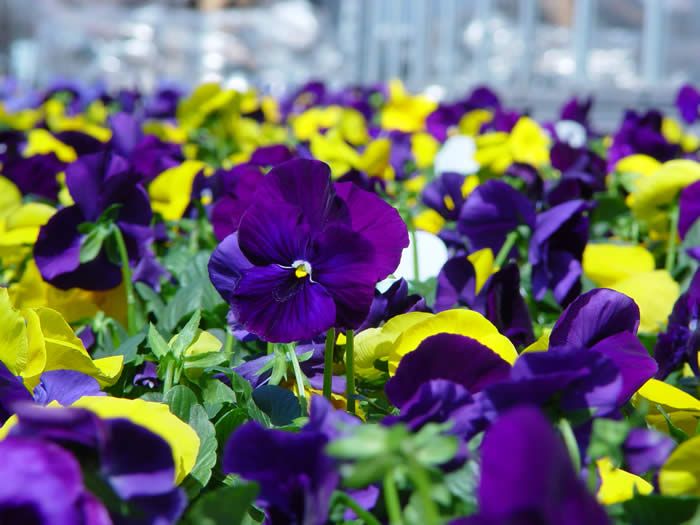 Purple and yellow pansies are cold-tolerant and can be planted in the spring!
The plant and planting time determine when you need to get your order in. For varieties that are an early spring planting, like pansies, orders need to be placed the end of December to January. Orders can be placeed in early spring, around March, for other plants, like petunias and impatiens.
It is best to contact the Production Department with any questions on availability or deadlines for orders. It may take some research and time to determine if a specific variety can be ordered and custom grown. Special pricing and minimum orders may apply.
We look forward to working with you and filling your requests!
Contact Mike Bowman in the Greenhouse Production Department for pricing and availability.
Office: 651-239-1346
E-mail: mbowman@gertens.com