Boulder Services
Gertens Landscape Supply Yard has a vast selection of hardscape items and new products are always being added to our inventory. Boulders are just one of the many products we sell, but it is also one of the most versatile. There many uses for boulders and we know that you may need specific sizes so Gertens offers custom sorting. We have a CAT IT320C with a clam attachment that is able to grab the boulders and load them. Boulders that are 18" and larger can be sorted for delivery or pick up.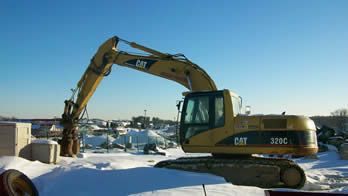 Our CAT IT320C machine. The long reach can load any size truck with ease.
We welcome you to visit our Landscape Supply Yard, where you can:
Pick out specific products for pick up or delivery
Get advice from our experts
Pick out more than you can handle? Gertens delivers! Boulders and landscape rock can be delivered to your jobsite; our clam delivery truck can deliver and place boulders 15-20 feet from the truck. Be sure to have the spots clearly marked, or be present for delivery.
Contact the Landscape Supply Yard at 651-239-1369 or Commercial Sales at 651-450-0277 for pricing and questions.