Safer Ice Melt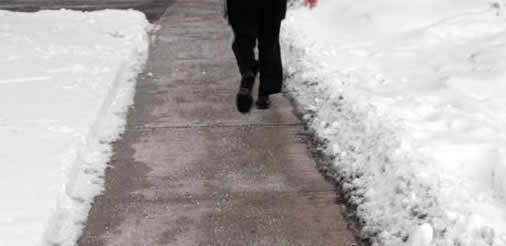 Using Salt-Sand can cause damage pourous surfaces, lawns and plants.
Snow and chilly temperatures has home owners reaching for salt and sand.
No so fast!! Did you know that regular salt and products mixed with salt can severely damage all driveway surfaces, and will damage all types of plants including lawns, shrubs and perennial. Sand is not much better. It also is salty and hard to remove in the spring. If you're an avid gardener and not looking for extra work in the spring raking up dead grass and having to detoxify your garden from salt there is a product that is naturally gentle to the environment.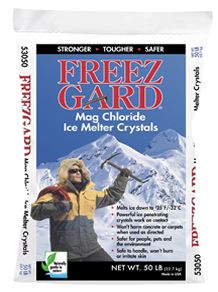 FreezGard is a naturally gentle solution to ice and snow!
'Freezgard' is a safer ice melt with an active ingredient of Magnesium Chloride Hexahydrate. It dissolves quickly to create a brine that quickly and effectively melts ice and snow to a temperature of -25 degrees F.
Apply lightly and use only a quarter cup per square yard. It works fast especially if applied before a snow fall. Apply flakes with a regular hand held or push broadcast spreader.
Best of all 'Freezgard' is less toxic than baking soda when used as directed. That's good news for home owners, gardeners and pet owners alike. The flaky, easy to spread crystals will not eat away at concrete, asphalt, paver walkways, driveways, even carpet. It is safe for pets so it will not burn their paws. And its safe for humans to handle too! Pound for pound Feezgard contains one third fewer Chlorides than regular ice melter's which is good news for our Minnesota lakes and streams.
Freezgard is our first choice at Gertens, made in the USA, and is available in a 50lb bag.
Don't forget a 5 gallon Gertens bucket with lid to store your Freezgard once opened.