Growing Fruit Trees
Growing fruit trees in the upper midwest is not as difficult as you may think. Here at Gertens we offer Fruit Tree selections that can handle our ever changing climate and even our unpredictable winters. The following information will walk you through the different Fruit Trees we offer.
Why are all the selections Dwarf or Semi-Dwarf?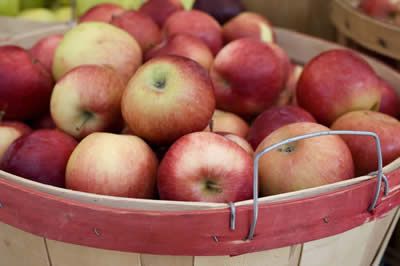 The introduction of dwarf and semi dwarf trees makes it easy for homeowners to cultivate and enjoy fruit trees in their own yards. Dwarf trees (under 15' tall) bear sooner and are easier to prune and maintain. Expect fruit in 2-3 growing seasons. Getting fruit earlier may happen but the average amount of time is 2-3 seasons.
What tips can you provide for a successful over wintering of my fruit tree?
Winter protection is recommended by mulching the base and wrapping the tree for the dormant months to ward off pest damage. A barrier may also be required such as fencing etc. in high deer traffic areas.
What tips can you provide for planting?
All of our fruit trees would prefer well drained moist soil and love to be in Full Sun, which is 6 hours. It is recommended that you plant trees requiring cross pollinators at least 20' away from each other but not much more then 100' away. This allows the pollinators (bees etc) a much better chance of hitting both trees and producing fruit. Dig the hole twice as wide as the pot and only as deep as the root ball. You may want to add some black dirt and compost to the soil. Read more on planting a tree here.
What about Insects and Diseases?
Good practice is to always clean up leaf, fruit and branch litter. Keep the tree healthy, when they are unhealthy they are more suceptible to insects and diseases. Maintaining good soil health with compost or fertilizer, proper watering and sanitation can aid in warding off these pests and ailments. If you suspect you have an issue with your tree you can email a picture or bring in a sample so we can try and help with diagnoses and treatment- Treebarn@gertens.com
| | |
| --- | --- |
| Apple- Malus | Requires additional Apple Tree Pollinator with same Bloom Time |
| Peach- Prunus | Does not requires additional pollinator |
| Apricot- Prunus | Requires additional pollinator** |
| Cherry- Prunus | Does not requires additional pollinator |
| Plum- Prunus | Use Toka for pollinator. Mount Royal does not require pollinator |
| Pear- Pyrus | Requires additional Pear Tree(s) Pollinator* |
*Pear Pollinators:Gourmet: Use Summer crisp or Parker/Luscious: Use Parker/Parker: Use Summer crisp/Seckel: Use Parker/ Summer crisp: Use Parker/Tawara: Use Seckel
**Moongold uses Sungold and vice versa, Brokcot and Westcot can produce singly but the addition of an additional apricot(any other variety) will increase production.