Gertens Rental - Make Your Project Easier!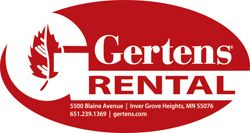 Gertens always provides the best plant material and landscape supplies, and we now offer garden equipment, trailer, and construction tools rentals for all your outdoor project needs. Our expert staff will be happy to recommend and teach you how to use any and all of our rental options. Now more than ever we are here to help you plan, create, and enjoy your landscape.

Our fleet of trailers can be used for hauling anything from equipment to mulch to fountains. Depending on what you need to haul, we can recommend which trailer is the best option for you. Our Lawn and Garden tools and equipment offer everything you need to prepare, create, and maintain a lush lawn.

We have: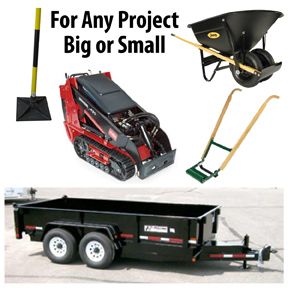 aerators
brush cutters
over-seeders
sod cutters
power rakes
edgers
tillers
wheelbarrows
spreaders
lawn rollers
lawn vacuums
blowers
mowers
tree-carts
For those projects that require more heavy-duty tools and equipment, we have a complete range of construction tools ready for you to play with. We have
pressure washers
trash-pumps
earth drills
generators
Dingo with a variety of available attachments
Terramite front end loader
concrete breakers
masonry drills
stump grinders
tampers
compactors
trenchers
concrete saws
block splitters
fence post driver
We have a flexible rental rate schedule with options for four hours, one day, one week, and four weeks. If you have any questions, or need more information on availability and pricing, please give our Landscape Projects Desk a call at 651-239-1315.