How to Install Outdoor Lighting Along a Path in Your Yard
Here are our easy instructions on how to install outdoor lighting along a path in your yard, or to accent a flower garden. Freestanding exterior lights add panache and an element of safety to your home. While such lighting systems may look complicated, they're really pretty simple to install. Gertens carries a wide variety of lighting options and styles to choose from including Cast Lighting, Kichler Lighting, Unique Lighting, and Moonrays Lighting. Check 'em out to see which styles suit you the best!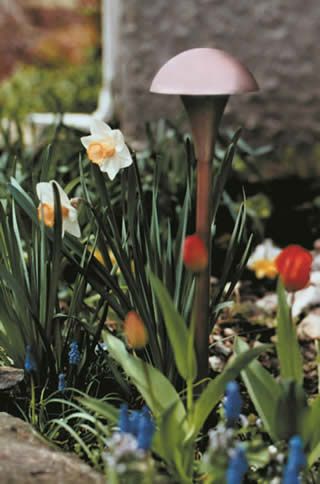 Make sure your lights and cables are well placed and sturdy, and that your cable is buried deep enough to prevent accidents.
To plan the project you'll need:
Measuring tape
Rope or string
Before you buy the light kit, you need to determine the number and placement of the lights. And since they all draw power from a single cable, you need to measure the distance from the closest exterior outlet to the first light, and so on along a course that includes all your lights. Then add up the distances so you'll know how much cable you need. (Most kits come with 50 feet of wire but you'll probably need more.) If you're math-impaired, just run a piece of rope along the whole course--and measure.
Materials you'll need to set up the lights:
Exterior lights
Low-voltage cable
Transformer
All-weather cover for outlet
Rubber mallet
Spade or flat shovel
Mulch or sod
After buying the lights, hook up the low-voltage cables to the transformer that comes with them, then plug the wires into the electrical outlet. (If the set does not include a storm-weather cover for the outlet, make sure to buy and install one.)
Thread the cable between the various lights and connect each one by combining the connectors around the cable.
Switch on the lights and make sure they actually work. If the bulbs seem a little dimmer as you move farther from the house, that's natural, because the voltage dissipates; sometimes, though, you'll need to use a higher-voltage cable to get ample illumination.
Once everything seems to be working, plant the lights firmly in the ground using a rubber mallet and carefully cover the cable by digging a narrow slit in your yard or simply throwing mulch over the wire. After all, you wouldn't want someone to trip over the wire or cut it with a lawn mower and ruin your handywork.