9 Areas of Focus for a Perfect Patio


Pavers and flagstone come in hundreds of different combinations of colors, styles, sizes, thicknesses, patterns, and textures. This enables nearly endless possibilities! The following is a guide to get you started in selecting your layout & materials and making your project unique.
Step 1 - Area
Mark off the area that you are going to be working with. You can do this with landscape marking paint, landscape marking flags, measuring tape (best if on a reel), or even a garden hose. Make sure to take measurements and note permanent structures such as your house, the location of doors/windows, mature trees/landscaping, etc. Physically seeing the actual size of your canvas will help you visualize your project and can help make decisions easier.
Step 2 - Style
Paving stones can come in a variety of styles which include: Holland (brick), tile, cobble, weathered stone, old world cobble stone, slate, and even flagstone & cut stone. The appropriate style for your space will be determined by the type of house you have. For instance a Bungalow from the 30's is a different style than a Victorian, Ranch, or Split-level type house. Pavers can range from traditional styles to sleek minimalist, modern looks.
Step 3 - Texture
There are a variety of textures, which include non-tumbled (smooth), tumbled (weathered), embossed (contains dimples on the surface), tumbled & embossed, slate, flagstone, and hydropor or wet cast (very fine surface texture). Natural Stone offers offers a wide variety of textures not found in concrete or poured pavers.
Step 4 - Color
An easy way to complement your house is by pulling in the roof and trim colors and incorporating them into your landscape, which provides a cohesive accent. The most universal colors and color combos are the neutrals & earth-tones such as: sandstone, cream/brown, tan/buff/brown, grey/charcoal, limestone, terracotta/cream/brown, and grey/tan/charcoal etc. These days, a majority of pavers come in color 'blends' that combine anywhere from two to five different colors. If you are interested in making a statement, then going with a dominant color that will draw immediate attention can be accomplished through the use of a contrasting color palette and/or vibrant solids, such as reds and gold.



Step 5 - Patterns
There are many patterns to choose from depending upon the type of paving stones you choose, and your personal preference. The pattern you choose can give your project a more formal or more casual feel and can make your pavers easier or more difficult to install. Pavers have nearly endless possibilities when taking into account different patterns. This is where you can get really creative, keep in mind the more original the pattern, the higher difficulty the project becomes.
Step 6 - Pattern Angle and Inserts
There are commonly two different laying angles in which to lay pavers; a 90 degree angle or a 45 degree angle. The most common starting point is to take the angle off of the point of entry/exit of their home. You can even consider using both laying angles in the same project to delineate spaces. Another idea is to insert a different laying pattern into the design to draw attention or accent to another area. For instance, one laying pattern where in the dining area and another in the cooking area/seating area/fire-pit or place etc. In terms of inserts, the most common is a circle kit inserted in or adjacent to the field.
Step 7 - Borders and Banding/Ribboning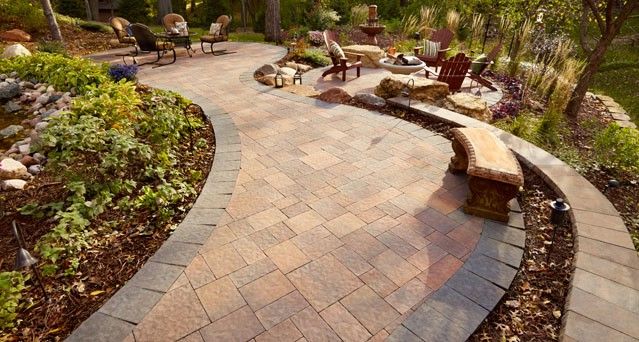 Depending on how large the area is borders can add a significant accent to the project. There are many ways to lay the paver borders; the most common of which are Soldier, Sailor, Running Bond, Stacked, or Random. Consider whether you would like to use one or multiple 'bands' depending on how wide an area you have and the amount of defined edge you want to create. You can use the same color or color blend as in your field for a subtle look, or a contrasting or accent color to make the border pop and stand out.
Step 8 - Accent Colors and Contrasting Textures
Utilizing accent colors can help you delineate spaces that have different uses. For example the dining vs. cooking vs. lounging areas of your patio. Another idea is a separate border color. If the majority of the colors in your patio are earth tones, consider accenting the borders with a solid color to frame the project.
The same can be said about inserting a different texture into your pattern or border. For instance, if your main laying pattern consists of tumbled pavers you could use a double border with the outside border stone consistent with the field and the inside border stone is a different color texture or vice versa. Changing the textures within a project can add a lot of depth and provide a nice finishing touch.
Step 9 - Creating an Outdoor Room
The addition of vertical elements such as retaining or freestanding walls, columns, grill islands, countertops/bars, and fireplaces will truly make your patio into an outdoor extension of your home. These elements can create the feel of outdoor kitchens, dining rooms, and living rooms. Walls not only separate spaces and allow elevation changes; they can also provide additional seating. Columns are akin to doorways in that they mark entry and exit points, and provide vertical interest to horizontal walls. Grill islands & bars provide additional prep and eating space, but also serve as a place for friends and family to gather around. Fireplaces add warmth literally and figuratively and allow you to use your space despite cooler temperatures.
The Bottom Line

Since there are so many different options to choose from, take your time with this process and have fun! The last thing you want to do is to make a hasty decision and regret it later. Please come in to the store and have a look at our samples, outdoor room displays, and speak with the staff at the Landscape Project Desk for more information and assistance.