Jerk Chicken with Honey-Lime Cream
Before getting started, make sure you have everything you need by checking out our grilling section for everything from spices and rubs to a brand new grill!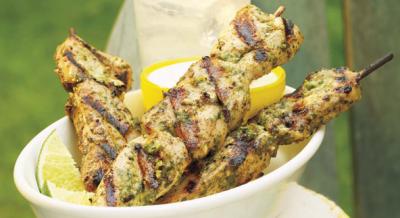 Finished Jerk Chicken
Paste
1 habanero or Scotch bonnet chile pepper
1 cup lightly packed fresh cilantro leaves and tender stems
1/2 cup extra-virgin olive oil
4 scallions (white and light green parts only), roughly chopped
6 medium garlic cloves
2 tablespoons finely chopped fresh ginger
2 tablespoons granulated sugar
1 tablespoon fresh lime juice
1 tablespoon ground allspice
2 teaspoons kosher salt
1 teaspoon ground black pepper
6 boneless, skinless chicken breast halves, 6 to 8 ounces each
Sauce
1/2 cup sour cream
1/2 teaspoon finely grated lime zest
1 tablespoon fresh lime juice
1 tablespoon extra-virgin olive oil
2 teaspoons honey
1/4 teaspoon kosher salt
1/8 teaspoon ground black pepper
To avoid burning your skin, wear rubber or plastic gloves when you handle the chile. After handling the chile, do not touch your face or any other part of your body, as that might cause a burning sensation. Remove and discard the stem of the chile, then cut away and discard the hot whitish veins and seeds. Put the rest of the chile in the bowl of a food processor. Add the remaining paste ingredients and process until smooth.
Trim the chicken of any fat and remove the tenders. Cut the chicken lengthwise into even strips, 1/2 to 3/4 inch thick.
Place the chicken strips and tenders into a large, resealable plastic bag and spoon in the paste. Work the paste into the chicken, press out the air in the bag, and seal tightly. Place in the refrigerator and let marinate for 2 to 3 hours.
In a small bowl whisk the sauce ingredients. Cover with plastic wrap and refrigerate. Let the sauce stand at room temperature for about 30 minutes before serving. Prepare the grill for direct cooking over high heat (450° to 550°F).
Wearing rubber or plastic gloves, thread the chicken strips onto the skewers, being sure to keep each skewer well within the flesh of the chicken. If you don't have rubber gloves, be sure to wash your hands thoroughly after this step.
Brush the cooking grates clean. Grill the skewers over direct high heat, with the lid closed as much as possible, until the meat is firm and the juices run clear, 6 to 8 minutes, turning once or twice. Serve warm with the sauce.